"They Don't Wanna Sacrifice Mass": World's Second Richest Bodybuilder Justifies His Statement Against Mr. Olympia 2022 Champion Hadi Choopan
Published 12/25/2022, 6:30 AM EST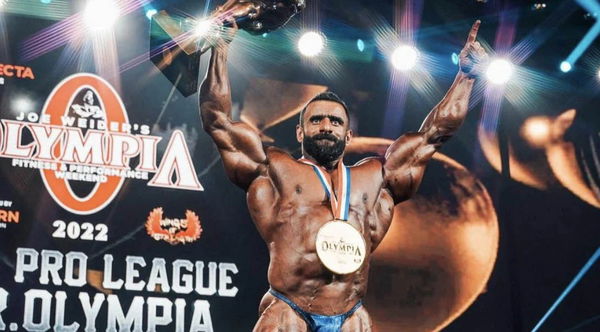 The 2022 Mr. Olympia has a new emerging champion. Hadi Choopan, who hails from Iran, won this year's Olympia ending the two-year streak of Big Ramy. Although bodybuilding icon Rich Gaspari recently compared Choopan's back with that of legend Dorian Yates, the whole bodybuilding community unexpectedly fired back at Gaspari's comments.
As the bodybuilding community did not receive his take on Choopan on a positive note, Rich Gaspari posted came up with another post explaining his statement. Let's delve deeper into the matter.
Constructive criticism as per the bodybuilding icon
ADVERTISEMENT
Article continues below this ad
In simple words, Gaspari didn't want any controversy to spread because of his previous post. He just wanted Choopan to become better than he currently is. The former had no intention of comparing the two big names in the bodybuilding world.
 

View this post on Instagram

 
"For me, Hadi is a champion. He being a champion that, you know, to me, it's constructive criticism; it's not something where I think that my era was better than this era. I think the guys today are much bigger […] But I do think there's something with the diet and you know they are not as hard, and I think one of the reasons why they are not as hard is because they don't wanna sacrifice the mass. Now, I believe Hadi now represents the Mr. Olympia. So, his package is what's gonna be there. Now can he make his back better or harder like his front? I definitely think he can. And do I think he can be a multiple winner of Mr. Olympia? I definitely think he can," Gaspari said in his IG post. 
Gaspari acknowledges and admires Choopan a lot. The post where he compared Choopan to Yates wasn't intended to make him feel small. Gaspari is all in favor of the on-stage magnificence demonstrated by Choopan as well as all aspects that justified his winning the Olympia.
The only point of concern from the old-school bodybuilder directed for Choopan was to have Yates's Christmas tree shredded back.  He urged everyone to take his statement as constructive criticism and in the spirit in which it was intended. Gaspari also mentioned how the victory of Hadi Choopan hinted that the current bodybuilding era is going in the right direction.
Christmas came early for the Iranian bodybuilder
The results of this year's Mr. Olympia open category were shocking to many. The fan-favorite Big Ramy is no longer the defending champion of bodybuilding's biggest title. When Bob Cicherillo declared Hadi Choopan the winner of the event, it had a massive impact on the whole community.
 

View this post on Instagram

 
Choopan had a tough way of getting into the event. First of all, getting a visa was pretty difficult for him. He is also impaired in hearing, which brought out questions regarding his participation in the competition. It was all a big no for the champion, but he went through everything only to prove himself as the biggest on the stage.
Watch This Story | A Journey To Millions: Here's How Chris Bumstead Made Millions After Becoming Mr. Olympia in 2019
ADVERTISEMENT
Article continues below this ad
Do you think Rich Gaspari's statement regarding Hadi Choopan was constructive criticism? Let us know in the comment section.
ADVERTISEMENT
Article continues below this ad
Edited By: Jahnabi Choudhury