World's Oldest Bodybuilder Once Shamed as "Skinny Bones" Shares Anti Aging Secret
Published 03/15/2023, 10:57 AM EDT

Follow Us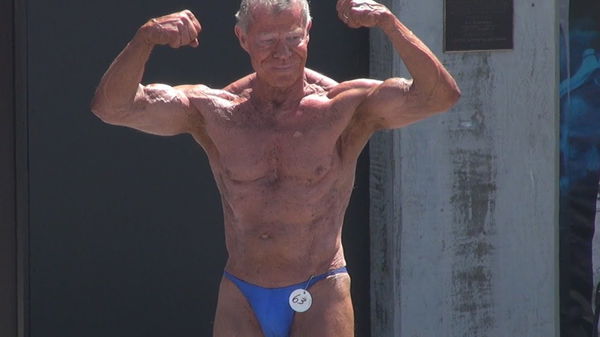 A bodybuilder named Jim Arrington proved that age is no bar to creating history. Nicknamed "Skinny Bones", Arrington is the world's oldest bodybuilder who also won the Guinness Book of World Records title in 2018. Describing his elation at winning the title, the 90-year-old bodybuilder revealed his anti-ageing secret for longevity.
The bodybuilder's statements are important due to his tremendous achievements which have made him immensely popular. Participating in 62 bodybuilding competitions, Arrington has gained victory in 16 competitions. Not only this, but Arrington also did a workout of his full body for more than an hour two times every week despite his old age. So what was the anti-ageing secret he revealed? Read on to find out!
Bodybuilding legend discloses the anti-ageing secret that kept him fit
ADVERTISEMENT
Article continues below this ad
Training at the Gold's gym in Venice, Arrington explained how he was careful not to abuse his body while training at his age. "Bodybuilding is hard work! You need to set goals, but most of all, you need to love the training", he advised. Arrington also implied that once the body adapted to the training, it required new challenges.
 

View this post on Instagram

 

Further, Arrington described how Ken Waller, who won the Mr Universe title in 1975 enlightened him about the secret of bodybuilding. This secret was, "Do what works for you." Afterwards, Arrington related, "I've stuck at it for more than 75 years because I am so goal-oriented." 
Later, Arrington also shared how he had biceps injuries due to his training which was discouraging for him. However, his mindset about this was, "It's important to keep soldiering away." This indicates how Arrington gave importance to consistency while training to maintain his physique. Arrington is not the only bodybuilder who has managed to ensure a good physique despite his age. Another famous bodybuilder named Lee Labrada shared his secrets to remaining fit past the age of 60.
Lee Labrada's priceless advice for remaining healthy in old age
ADVERTISEMENT
Article continues below this ad
Labrada told his fans that he did a daily workout. The bodybuilding champion also shared an Instagram post on 14th March 2022, where he showed fans the amazing results of working out consistently. The pictures, portraying how Labrada looked in 1988 and 2011 are very similar, indicating how Labrada has mentioned his physique.
 

View this post on Instagram

 

With this, Labrada also suggested to fans, "Excercise regularly, eat clean year-round, get lots of rest, live the lifestyle." He also recommended fans consume a meal of proteins and carbohydrates 1 and a half hours before going to the gym. All these tips clearly indicate the vast experience Labrada has gained during his bodybuilding career which he has applied to his life.
ADVERTISEMENT
Article continues below this ad
Watch This Story: 65-Year-Old Grandmother Turns Internet Trolls Into Fans with Her Bodybuilding Prowess 
Arrington and Labrada's stories prove how consistency, setting goals and a good diet are crucial for anti-ageing. How are you inspired by their stories? Share your perspective in the comments section.
Edited By: Gideon Mathson