"Isn't That Big to Me": Jay Cutler Addresses Steroid Rumors Surrounding Dwayne 'The Rock' Johnson's Physique
Published 03/11/2023, 7:40 AM EST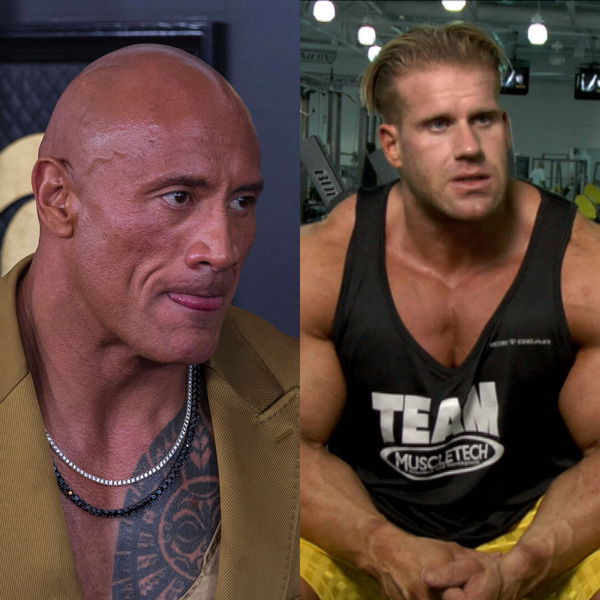 Professional bodybuilding and steroid usage are an open secret at this point. Bodybuilders have become much more transparent about their steroid use in the last two decades. However, the world of celebrity transformations and superhero physiques remains murky. A large part of the internet is convinced actors and influences who drastically transform their bodies do so with the help of steroids. The recent Liver King fiasco has only fanned the flames and also led to fans questioning the natural status of many of the most prominent celebrities like Dwayne Johnson.
Now, bodybuilding legend and four-time Mr. Olympia Jay Cutler has addressed the rumors that 'The Rock' used steroids. Cutler gave his opinion in an interview at the Arnold Classic.
Bodybuilding legend Jay Cutler knows what he is talking about
ADVERTISEMENT
Article continues below this ad
On March 6, journalist Adam Glyn uploaded an exclusive interview with Cutler on his YouTube channel, Adam's Apple. During the interview, Glyn asked the former Mr. Olympia about Hollywood celebrities like Dwayne Johnson, who are not athletes but "they get in the same shape. What do these guys take?" While he didn't speak about others, Cutler was confident about talking about Johnson.
"I've known Dwayne before he became really big, even in wrestling," the three-time Arnold Classic champion told the interviews. Cutler also said that 'The Rock' has been one of the champions of the fitness community. "I see his dedication. I know that dedication," said the champion bodybuilder. He also said that Johnson is among the few individuals who are always in shape.
While addressing Johnson's steroid use, Cutler was confident in saying that 'The Rock' is "in shape, and he's cut and lean," but isn't a mass monster. "One thing I can honestly say and people may look at me differently for this, but Dwayne isn't that big to me," Cutler said during the interview.
Cutler also said, "people say he's gotta be taking this and that," but he believes that the former WWE superstar has immense dedication. He also mentioned that Johnson has the added advantage of working with some of the best experts in the industry. However, Cutler talked about TRT during the interview as well.
Jay Cutler on testosterone replacement therapy
While talking to Adam Glyn, the bodybuilding legend talked about why someone his age might consider hopping on TRT or HRT. According to the four-time Mr. Olympia, TRT or HRT is just a "special" term for medically prescribed testosterone.
ADVERTISEMENT
Article continues below this ad
 

View this post on Instagram

 
The champion bodybuilder revealed that studies have shown that some people witness a drop in their testosterone levels after a certain age. "So, what people are trying to do now, they're trying to replenish and find the fountain of youth," Cutlker said during the interview.
ADVERTISEMENT
Article continues below this ad
Watch this story | Liver King's $12k Steroids Truth Revealed: Bodybuilding World Reacts
What do you think about Jay Cutler's take on the topic? Do you believe Dwayne Johnson is natural? Write your thoughts in the comments.
Edited By: Jayant Chhabra