"I Cry Reading This Story!": Mother Saves 17-Year-Old Cheerleader's Life at Sports Event, Leaving Fans Emotional
Published 03/15/2023, 11:56 AM EDT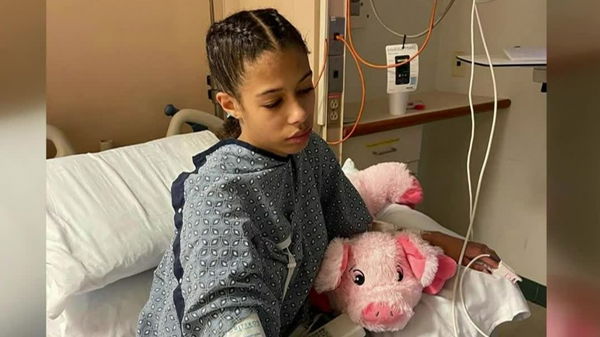 Keianna Joe, a teen cheerleader experienced a cardiac arrest while she was preparing for a competition. It was her coach who noticed her first, and began shouting for an ambulance frantically. However, without wasting no time, mother Andrea Joe stepped in and took charge of saving her daughter through CPR.
On 15 March, the news website, Today reported an incident of a girl receiving CPR from her mother. The inspiring story made the netizens hail the mother's courage.
ADVERTISEMENT
Article continues below this ad
Keianna's mother could not find her daughter's pulse
Keianna Joe was warming up before the cheerleading event when she experienced a cardiac arrest. Her mother was attending the event when she collapsed. Thankfully, mother Andrea Joe, was a certified medical assistant who took the matter into her hands. She told the news website, "I just took over. I know CPR, I know how to do this. This is my baby and I have to save her,"
While she gave Keianna CPR, a portable defibrillator was brought to the room. It needed to give the patient a shock. Finally, with the help of both CPR and shock, the cheerleader got her pulse back. Nevertheless, the doctor who treated her afterward revealed that Andrea played a vital role in saving her daughter.
Nevertheless, fans were super-amazed to hear the heartwarming story.
Fans get emotional for the mother who gave CPR to her daughter
Noticing her daughter lying unresponsive on the floor, Andrea spent 10 minutes giving her daughter CPR. Since was trained in the practice, she knew the technicalities. Thankfully, she could save her daughter, winning hearts on the internet.
Many appreciated the mother, stating that she was the hero of the moment;
"Hero momma, way to go!"
"So Happy Mom ,you did Something Amazing for your Daughter. A Blessing for Sure"
"Great job Mama!You are a hero for your own and a wonderful example for all! God bless you."
Many expressed that they got emotional reading the story;
"Amazing job Momma!! Yall had me crying from your love and joy, So happy for you both!!"
Many similar comments read;
ADVERTISEMENT
Article continues below this ad
"Great story! Keep everyone on their toes! Thankful mom had the knowledge and took swift action!"
"Whew Mom that had to be hard to see your baby lying there. God is so good I'm glad the healing part has started."
"What a beautiful ending but, my God, I can't imagine the terror. So glad the story ended as it did and not as it could have."
ADVERTISEMENT
Article continues below this ad
Watch This Story:  "It takes a toll on you" The Surfing GOAT Kelly Slater Dazzles His Fans With The Trailer Of His Upcoming Show
Indeed, it is commendable seeing a mother save her daughter from a potentially life-threatening incident. Nevertheless, it also indicates the importance of knowing CPR practice for emergencies.