VIDEO: Legendary Yuzuru Hanyu Once Won Podium Place Despite Facing Collision With Another Skater
Published 05/09/2022, 7:30 AM EDT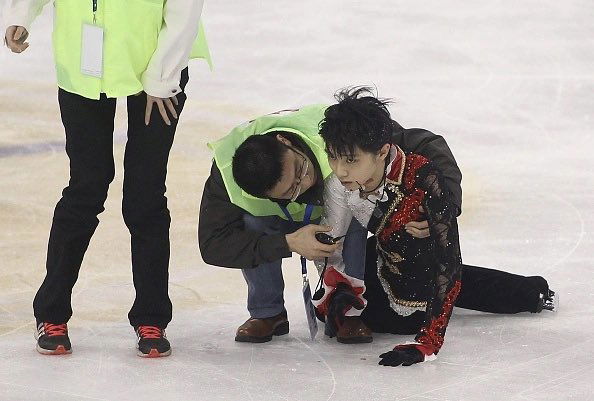 Yuzuru Hanyu is often hailed as the greatest figure skater in history. With his two Olympic medals, two World titles, four consecutive Grand Prix titles, as well as a four Continents title winner, he is the only men's single skater that achieved the career Super Slam. Of course, this incredible 12-year-long career didn't come without its obstacles.
ADVERTISEMENT
Article continues below this ad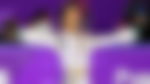 Hanyu is known for being particularly injury-prone, withdrawing from multiple competitions over the years. In fact, his 2018 Pyeongchang Olympic victory was achieved on a busted right ankle kept alive with painkillers. Now, with Hanyu chasing the quadruple Axel, the fans are practically holding their breath every time he jumps off the ice. One such scary injury that fans can never forget happened during the 2014 Grand Prix series.
ADVERTISEMENT
Article continues below this ad
The 2014 Cup of China
What happened at the Cup of China 2014 is an incident quite hard to forget. During the six-minute warmup before the free skate, Hanyu had a collision with China's Han Yan. The scary crash left him on his back, unable to breathe, and blood smeared across his neck and face from a cut on his chin. He was carried off the rinkside, where he received first aid.
A few minutes later, the Olympic champion resurfaced with a gauze wrapped around his head and a bandaid on his chin. Though he was visibly shaken, he decided to stay and compete. Both Han Yan and Yuzuru Hanyu had taken quite some damage, as was evident from their performance. 
The whole stadium watched with bated breath as Hanyu fell five times during his program. He hobbled off the ice, worse for wear, and still managed to get the top score of 237.55 of all the skaters that went before him. Understandably, quite a few tears were shed in the kiss and cry. Afterward, Maxim Kovtun of Russia scored 243.34 points, less than six points ahead of Hanyu, putting him in second.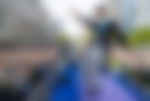 Hanyu's injury and the aftermath
After the competition, Hanyu received stitches on his head and chin and was checked for a concussion. He flew back to Japan for further treatment for his sprained ankle and bruises on his head, thigh, midriff, and chin, worsened by the performance.
Fans have repeatedly expressed concern about why Hanyu was allowed to skate in that state. In the press conference following the free skate, Hanyu's coach Brian Orser talked to the press on his behalf.
ADVERTISEMENT
Article continues below this ad
I'd never seen footage of the CoC 2014 Press Conf. Brian took Yuzu's place because Yuzu was getting medical attention. He looked distraught to say the least. The entire segment is interesting with angles and audio that were new to me
⚠️crash is 1st scene⚠️ https://t.co/0yRJ0eYWxT pic.twitter.com/dIevl8ke7A

— 𝒴𝓊𝓏𝓊𝒮𝓅𝒾𝓇𝒶𝓉𝒾𝑜𝓃羽♚Certified HanyuAxel (@yuzuspiration) January 22, 2020
"He was very determined to go out and skate," Orser said. "Immediately, he was determined that he wanted to compete, and for me, I wanted to make sure he was healthy enough to compete."
ADVERTISEMENT
Article continues below this ad
Even at the rinkside, Orser reassures Hanyu that he "doesn't have to be a hero" and that his health comes first. But the skater's tenacity and determination to go ahead with the free skate was unbeatable. Fortunately, it seems that Hanyu has become more accepting of withdrawing from competition in light of injury. Even if his ambitious and a little reckless, goals keep his fans on the edge of their seats.
WATCH THIS STORY: Resurfaced Viral Video Shows Legendary Yuzuru Hanyu's Elegant Act Before Medal Ceremony At SCI 2019