4'8 Ft Simone Biles Jump Is So High, She Rejects Gravity With Her Insane Record
Published 06/19/2022, 9:15 AM EDT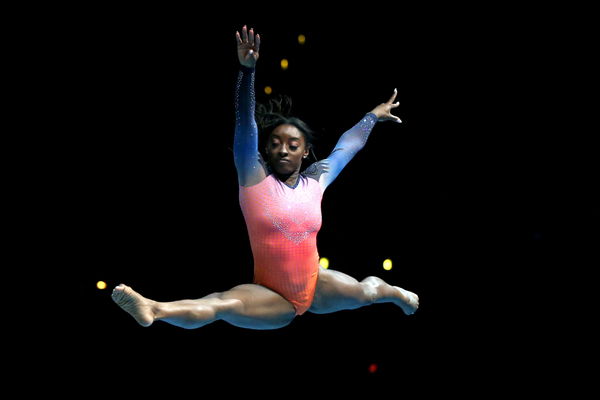 Simone Biles has dominated the world of gymnastics since her introduction to the international competitive aspect of the sport in 2013. The athlete has not looked back ever since. Moreover, she has become the face of the sport in the US.
ADVERTISEMENT
Article continues below this ad
Fans and enthusiasts keep a close tab on her daily routines as an encounter with the G.O.A.T of gymnastics is nothing short of exhilarating.
ADVERTISEMENT
Article continues below this ad
One of the most challenging moves mastered by Simone Biles
Some people might be unaware of the fact that the seven-time Olympic medalist has a few moves named after her, four to be specific. These moves are Biles and Biles II (Floor), Biles (Balance beam), and Biles (Vault).
However, the two-time Olympian's favorite events are the floor routine and the vault. Naturally, her most famous move would also stem from one of these events.
Therefore, the move that has caught the attention of the masses is the Biles move in the floor routine. It is an aerial flip that involves a double layout with a half twist. However, it is a challenging move as it requires the gymnast to pull off a blind landing.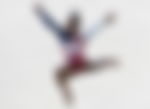 Not only is it a challenging move, but it is also a dangerous one to include in one's routine. It is because a blind landing comes with a lot of risks. The Biles floor move is risky because even a slight miscalculation of time or angle could spell trouble for the gymnast attempting it.
However, Biles has been able to steer clear of any major mishaps during her competitive career while performing this move. Moreover, the athlete has soared to unimaginable heights, in the literal sense of the word, while performing this move.
Why is the move in the floor routine considered difficult?
ADVERTISEMENT
Article continues below this ad
If current data is anything to go by, the Olympian is able to jump nearly twice her height while performing the Biles move. And since Simone Biles is 4'8" tall, twice her height amounts to almost 10 feet!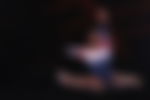 It means the gymnast can jump over Shaquille O'Neal, who stands at a towering 7'1″. Moreover, the interesting part is that Biles would also be able to slam-dunk the ball during a basketball match. This feat is possible for the athlete as the hoop is positioned 10 feet above the ground. Isn't that just amazing!
ADVERTISEMENT
Article continues below this ad
Biles' jump is just shy of this height. But she can achieve the feat if she extends her hands in the air. However, the gymnast would need to build quite the momentum to achieve the desired height. Perhaps, the move is not feasible during a basketball match, but it has won her multiple accolades in prominent meets, nonetheless. And given her fondness for it, fans can look forward to seeing it at meets.