Is Trinity Thomas the New Queen of Gymnastics, Simone Biles' Latest Rival?
Published 05/05/2022, 1:02 PM EDT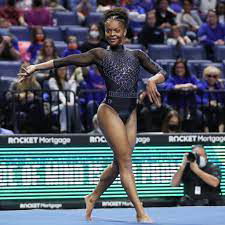 When it comes to gymnastics, Simone Biles has ruled the charts for quite a while now. However, after she took a break from the elite sport back in 2021, it gave way to many new and upcoming gymnasts; one of them is young American Trinity Thomas. Trinity came to the limelight when she scored a perfect 10 at the NCAA. She proved to be a tough competition to Olympic medalist Suni Lee and even beat her to win the all-around title.
ADVERTISEMENT
Article continues below this ad
Notably, Trinity is 21-years-old and represents the University of Florida. She has been a member of the National team for 4 years now. Thomas has been practicing gymnastics since she was 7-year-old and over the past years, she has shown her supreme skill at the topmost level. This has led many to wonder if Trinity is the new Simone Biles.
ADVERTISEMENT
Article continues below this ad
Trinity Thomas – The rising sensation compared to Simone Biles
April witnessed an impressive gymnastic season at the NCAA. The event was lined up with some talented gymnasts from all over the country. However, it was Suni Lee and Trinity Thomas who grabbed headlines. Both the athletes performed their best; however, it was ultimately Trinity who went home being crowned the champion.
After her successful season, many have compared her to gymnastic GOAT, Simone Biles. Make no mistake, at 21 Simone Biles was already an Olympic medalist. In fact, it was Biles' age that prevented her from qualifying for the 2012 London Olympics.
As for Thomas, she already revealed that she will not compete as an elite gymnast. Therefore, she did not attempt to fight for a spot at the Tokyo Olympics 2020.
Thomas mostly competes at the collegiate level. This year at the NCAA was her last year of collegiate gymnastics. Here, she earned her first-ever individual championship title, winning the All-around champion title.
It is true that Thomas has impeccable style and finesse in her sport, but to compare her to Simone Biles might be a stretch. While Thomas has not made it clear whether or not she will return to elite sports, Biles on the other hand has a combined total of 32 Olympic and World Championship medals.
Thomas grabs the Honda Sports Award 2022
ADVERTISEMENT
Article continues below this ad
Trinity was awarded the 2022 Honda Sports Award. Notably, this award is given to the nation's top collegiate female athlete in her sport. And by becoming the champion at NCAA, Trinity Thomas has proved that she is the country's new gymnastic queen.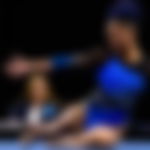 This also means that Thomas is now a finalist for the Collegiate Woman Athlete of the Year and the prestigious 2022 Honda Cup. The awards will be held on June 27th in Los Angeles, California.
Watch This Story: From Golf Legend Tiger Woods To NHL Star P.K. Subban: Here's a Quick Look At Lindsey Vonns Dating History
ADVERTISEMENT
Article continues below this ad