Not Just Simone Biles but Her Look-Alike Sister Is Also a Gymnast
Published 06/01/2022, 12:07 PM EDT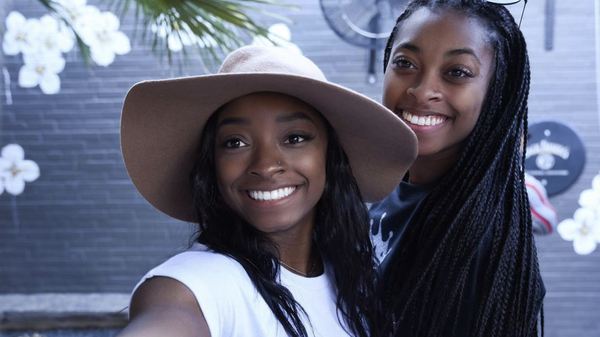 Well, if you spend much time with someone who is good at a particular thing, chances are you'll be good at it too. Now imagine someone living in the same house together since childhood, or if we are more specific, imagine two sisters, just two years apart, growing up with similar experiences. Perhaps the odds of Adria Biles being a skilled gymnast like Simone Biles were always on the table.
ADVERTISEMENT
Article continues below this ad
Simone Biles is an athlete who has had a great impact on millions of people around the world. Apart from being a legend in her sport, she has been a role model as well as a foremost advocate of mental health awareness. It is because of her that thousands of athletes and celebrities are recognizing their internal challenges and accepting that it's okay to not be okay.
ADVERTISEMENT
Article continues below this ad
Adria Biles is also a gymnast
Simone Biles isn't the only gymnast in the Biles family. Her little sister Adria is also a champion gymnast. In fact, she trained along with Simone till 2016 and after that, she turned to different things. Just like her sister, Adria started early with the sport. When she was 9, she began training. However, as she reached the junior elite level, she bid farewell to gymnastics and now she is into dental assisting and hygiene.
Another special thing about Adria is that she is a perfect doppelgänger of her sister Simone. They have common facial features, but if you ever find it difficult to identify between the two, remember the little sister is taller.
Simone Biles is lucky to have a younger sister
ADVERTISEMENT
Article continues below this ad
More than just a sister, Adria is her biggest supporter. In fact, for Adria, her sister is the most amazing person in the world. Recalling a childhood memory with Simone, she said, "My sister is fearless. When we were little kids, we'd stand on a railing on the second floor of our house, then jump off onto the couch down below on the first floor. She'd go first, and I'd follow. We were both gymnasts, so we were always trying things around the house. Nothing scared her."
 

View this post on Instagram

 
ADVERTISEMENT
Article continues below this ad
While Simone might have gone through a lot in her life, she is certainly the luckiest to have a younger sister to whom she means the world.
WATCH THIS STORY- "Don't Call, and Don't Visit"- Simone Biles' Biological Mother Was Forbidden From Seeing the Gymnastics Star After Her Adoption