WATCH: Adorable Young Fans Pay Tribute to Simone Biles on Halloween 2021
Published 10/31/2021, 9:26 PM EDT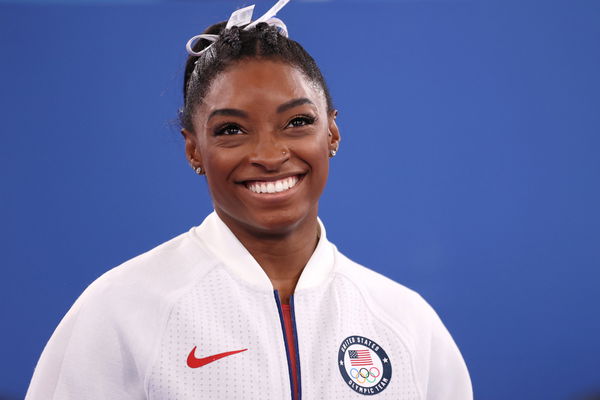 ---
---
The festive season is upon us. People all over the world are dressing up and looking their best on Halloween. Especially the kids, they are brimming with enthusiasm to try out different costumes. While doing so, a few decided to actually dress up as Simone Biles, the world-famous American artistic gymnast.
ADVERTISEMENT
Article continues below this ad
Simone Biles is inspiring in countless ways. Given her past performances and feats, one can't deny that she is one of the most decorated gymnasts. Not only do the 32 Olympic and World Championships medals make her stand out, but also her media presence, fashion sense, and an ability to speak her mind.
At the Summer Games in Tokyo, she took a bold stance for her mental health and decided not to participate in 3 events. But, in the other 2, she managed to get bronze as well as silver.
ADVERTISEMENT
Article continues below this ad
Halloween suprsises for Simone Biles
The very occasion of Halloween makes one think out of the box when it comes to costumes. Choosing to be a ghost or a king is quite mainstream. But, choosing to be a famous athlete isn't. So, the young fans decided to dress up like Simone Biles and post their pictures on the internet to pay a tribute to her. These pictures are absolutely adorable and show how immensely these kids are fond of the very famous Olympian.
It clearly shows how much inspiration children have drawn from $imoney and her performances. Not only this but also the fact that in spite of a hundred costume options available to choose from, they showed an inclination towards a sports entity.
Watch this story- Fans Dress Up As Simone Biles and Other Athletes on Halloween
Gymnasts like Suni Lee also attracted some fandom
At the Olympic Games in Tokyo, another gymnast emerged victoriously and gained a tremendous amount of popularity for her talent. Suni Lee, an 18-year-old American sensation won three medals. A gold, silver and bronze in individual all-around event, team event and on uneven bars, respectively.
Along with her compatriot, Simone Biles, Suni Lee then posted a picture on her social media which was recently replicated by a pair of young best friends and posted it on Twitter.
ADVERTISEMENT
Article continues below this ad
It's very encouraging to see that the young generation is so well aware of sportspersons all over the world. Be it, someone, as legendary as Simone Biles or someone as new and successful as Suni Lee.
ADVERTISEMENT
Article continues below this ad
As for Biles, the 7x Olympic medalist loves to engage with her followers and she might want to respond to the young fans who made her feel special on Halloween. If that happens, we'll bring the news to you!