"Without Her None of This..": Fiancé Jonathan Owens Gushes Over Simone Biles for Making His Dream Come True
Published 07/10/2022, 8:45 AM EDT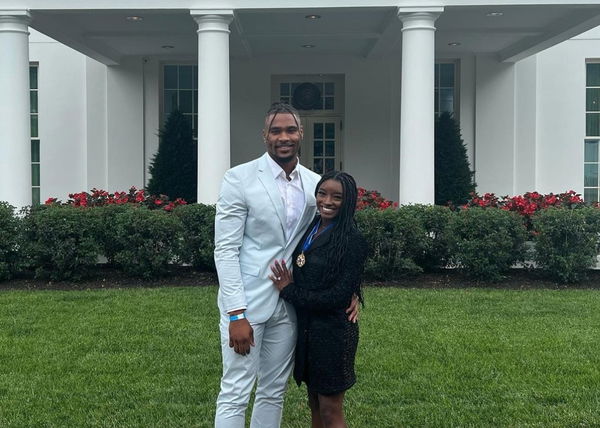 People experience great joy when their family member receives an award. And happiness increases manifold when it is one's better half that is the recipient of such accolades. Jonathan Owens, too, experienced such joy when his fiancée, Simone Biles, was the recipient of such an award.
The gymnast received the Presidential Medal of Freedom from President Joe Biden at the White House. With this, the athlete became the youngest person to win the medal.
ADVERTISEMENT
Article continues below this ad
Following the ceremony, NFL reporter Aaron Wilson caught up with Owens to speak about the experience. The Houston Texans safety had some insightful words about his significant other.
Fiancé Jonathan Owens has some encouraging words for Simone Biles
Owens, too, attended the ceremony to support and cheer Biles on during the event. When Wilson asked Owens about his experience at the White House, he had good things to say about it.
Speaking with Wilson, the athlete expressed his excitement over Simone Biles receiving the highest civilian honor. Owens said, "It was amazing. They're supporting my lady. It's a great experience meeting everybody you know. She's so deserving, so I was happy that I was able to experience that with her."
During the interview, the reporter asked how it felt to visit the White House. To this, he replied, "Oh yeah, it was a dream come true, but you know, just supporting my girl. And like I said, it was a great experience, and I love that she included me in it."
When asked how it felt to meet former President Bill Clinton and click a photo with him, the safety said, "Oh yeah, I had to. He was a nice pitcher, so I had to get a pitcher vibe."
Indicating he could meet all the influential people because of Biles, Owens added, "Without her, none of this would have been possible, so I'm happy for her. And like I said, she's so deserving."
How did Owens react when he heard the news?
ADVERTISEMENT
Article continues below this ad
When Owens became aware of Biles' selection for the prestigious award, he shared encouraging words for his fiancée on Twitter. Conveying his happiness for Biles, he tweeted, "Still in disbelief, I'm so proud of you baby." The Texans safety is the biggest supporter of the gymnast and has always backed her in her decisions.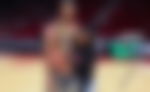 ADVERTISEMENT
Article continues below this ad
This year, as many as 17 personalities from various walks of life received the award on July 7. It included the soccer star Megan Rapinoe and the celebrated actor, Denzel Washington.
Edited By: Vibhanshu Kumar