"Don't Think it Really Changed" : Wayne Gretzky Performed a Bizarre Activity While Coming to Know of His Controversial Trade In 1988
Published 01/16/2023, 4:45 PM EST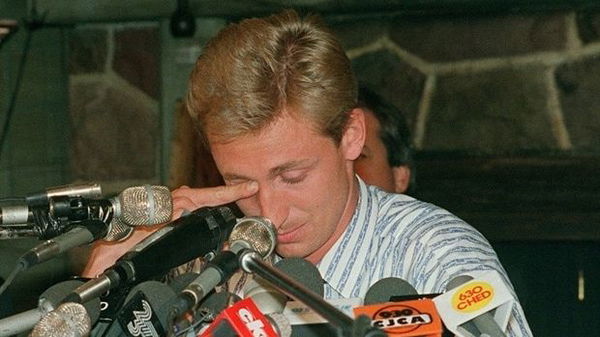 Wayne Gretzky's trade to the L.A. Kings not only made him cry, it also stunned the hockey world. Years later in 2019, Gretzky finally spoke openly about the incident. Canadian celebrity Alan Thicke once disclosed what Gretzky's mindset was when the latter received the call that he was traded to the L.A Kings. Thicke also described Gretzky's prompt action after the call. 
The Canadian icon made this admission in 2012 to Sportsnet. At the time the deal was made, the Gretzkys were babysitting Alan Thick's son, Robin. At that time, Robin was just 11 years old whereas Alan was in Norway. 
Lesser known revelations about Gretzky's strange activity when he received a call 
ADVERTISEMENT
Article continues below this ad
"Wayne and Janet were house-sitting for my son Robin" Thicke stated.  While Thicke had seen Gretzky's pictures in the newspapers, he couldn't understand Norway's native language. Later, Thicke narrated, "I called home and I learned Wayne had left early in the morning; he got traded last night."  Gretzky received the call at 9 pm at night and left at 6 am the next morning.
On Aug. 5 1988, Kings owner Bruce McNall called the LA house where Wayne Gretzky was staying to tell him the trade was on. The phone was answered by the 11 year old son of the house's owner, who went and got Gretzky. That 11 year old was Robin Thicke, son of the late Alan Thicke.

— Gord Miller 🌻 (@GMillerTSN) August 9, 2018

"So we had to find a substitute nanny instantly, which was not as bad as what Edmonton had to find to replace him.", elaborated Thicke. Later, in 2019, Gretzky revealed untold details of the same incident. Gretzky spoke of how he knew Robin since he was two or three years old. "Robin himself, was more into music…he was more into playing basketball", Gretzky stated.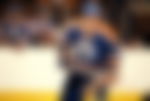 He then made it clear, "I don't think it really changed what he was doing on that particular day when I got traded."  This was not the only disclosure Gretzky made about the trade that broke the hearts of millions of fans. In another frank conversation, Gretzky gave insider details of the back story behind his trade to L.A. Kings. 
Wayne Gretzky's rare disclosures about the controversial trade
During this conversation in 2014, Gretzky narrated how the Edmonton Oilers gave him three options to choose from. These options were Detroit, Los Angeles, and New York. Gretzky then expressed how many people had the false perception that it was his wife Janet who influenced his decision to move to L.A. Gretzky spoke of how following a phone call from his father, Gretzky decided to play for the L.A Kings.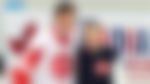 Watch This Story: Here's a Quick Look at Top Homes Owned by NHL Players 
Thicke and Gretzky's statements reflect the massive impact of Gretzky's trade on his personal and professional life, as well as the sport. As fans, we hope to know more details about Gretzky's journey and his unique perspective on various topics. Do you think Gretzky made the right choice by accepting to be a part of the L.A. Kings? Share your opinion in the comments below. 
ADVERTISEMENT
Article continues below this ad
ADVERTISEMENT
Article continues below this ad