How Fast Is Usain Bolt Vs an Average Human's Speed?
Published 10/08/2021, 2:12 AM EDT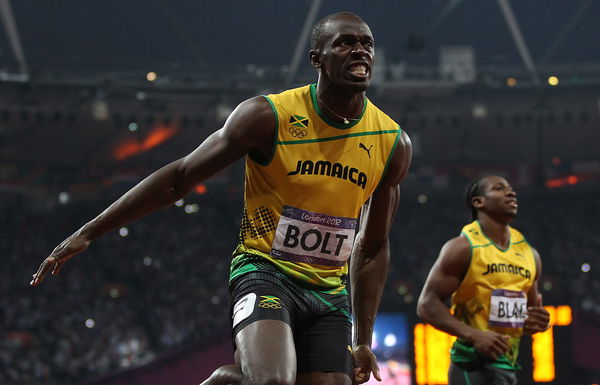 ---
---
The greatest sprinter of all time, Usain Bolt, once completed a 100-meter race in just 9.58 seconds. Ever since, he is regarded as the fastest man on earth, with no athlete even coming close to that timing.
ADVERTISEMENT
Article continues below this ad
If we convert his fastest speed into miles per hour, it averages to be about 28 miles. Undoubtedly, it would require decades of practice and effort to even get close to that blazing speed.
ADVERTISEMENT
Article continues below this ad
Can an average human beat Bolt's personal best?
For an average person to beat Bolt's top speed is something they could only dream of. In the hilarious video, while the host jokes that it would take him more than 9.58 secs to even stand up, a girl adds that she would probably compete with Bolt's speed if there was a pizza at the finishing line.
Before starting off, Bolt advises the crowd with some of his own personal tips and tricks. He also spoke about arm action to the audience in attendance.
"Listen, people, the best chance you have is no chance. That's the first thing. Arm action is key. You've got to work those arms. You've got to stay focused, drive and work. Stay focused on the goal in hand," said the Olympic star.
The flock gave their best to at least get close to Bolt's personal best, but none could do that. Even for those with experience in track and field, crossing the finishing line within 10 seconds seemed impossible.
Regardless of the result, Bolt was happy about the fact that everyone tried their best.
"It was just some regular people, trying to beat my time. It was horrible. They tried though and that's the key thing. But they did well. I could see the effort in their face. They were working it and that's the key thing. You know what I mean? That's what we do: hard work. We got it done," said Bolt. 
WATCH NOW:  Usain Bolt Joins Other Sports Icons With New Line Of NFTs
Usain Bolt says his first sports choice was Cricket
ADVERTISEMENT
Article continues below this ad
To much surprise, the fastest man on earth was an amazing cricketer back in the day. He played as a fast bowler during his preteen ages.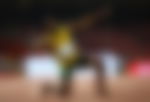 "In cricket, when I bowled, I could come down on the wicket hard, with speed and I was quick in the field… At the age of eight, I was taking wickets of cricketers a lot older than me, guys that were 10 or 11 years old," said the Jamaican sprinter.
ADVERTISEMENT
Article continues below this ad
A footballer, a cricketer, a music producer, and the undisputed champion of the track; what role suits best for Usain Bolt?