I Got Really Lucky Because I Met Sue" – Megan Rapinoe Reveals How Fiancée Sue Bird Changed Her Life
Published 10/17/2021, 9:26 AM EDT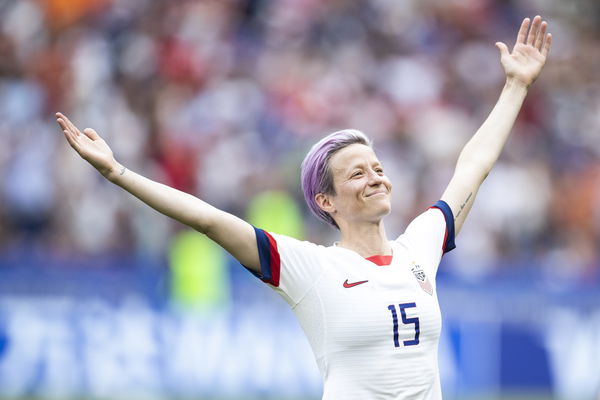 ---
---
The American soccer star, Megan Rapinoe, even at the age of 36, has managed to maintain her perfect performance and physique. Recently, in the Tokyo Olympics 2020, she led the National team towards the bronze medal, scoring two goals.
ADVERTISEMENT
Article continues below this ad
Winner of the Ballon d'Or Féminin and named The Best FIFA Women's Player in 2019, Rapinoe won gold with the national team at the 2012 London Summer Olympics, 2015 FIFA Women's World Cup, and the 2019 FIFA Women's World Cup.
ADVERTISEMENT
Article continues below this ad
The legend recently revealed that her performance, as well as how she maintains a perfect physique, is mostly because of Sue Bird. Sue is an American professional basketball player. The two got engaged in October 2020.
Megan Rapinoe and the person behind her mid-career transformation
Megan Rapinoe has revealed that Sur Bird, her fiancee, is behind her remarkable career longevity. She talked about how, from the day she met Sue, Sue has constantly inspired her to remain healthy and fit.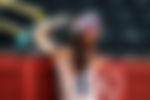 Rapinoe says that everyone undergoes body changes after their 20s and she was no exception.
"I feel like that's kind of just about the time where your body just kind of changes anyways," says Rapinoe.
"You go the first part of your career, and you can kind of just do what you're doing… but then there comes this time where you need to change something or you just get old really fast."
And then came Sue in her life, who helped Megan get into her top form.
"I got really lucky because I met Sue, and Sue is five years older than me, and she kind of went through this period."
A new diet and exercise plan was designed by Bird for Megan after her injury.
"Of course, I was smitten, in love, and I was like, 'I'll just pretty much do whatever Sue's doing,'" said the soccer legend.
Rapinoe believes in standing up for what you believe in
Rapinoe was most recently seen in an interview with Just Women's Sports. She talked about standing up for what you believe in.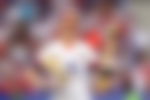 "I may just have the voice to say it louder or have the platform to do that, but then I think, you know, the final thing is, like, you do have to believe it. You gotta believe in these things," said Rapinoe.
ADVERTISEMENT
Article continues below this ad
According to her, you may not be an expert, but you can always put across your perspective.
"So, I feel like, I always say: I don't know everything, I'm not the expert on this, but like this is how I feel from my perspective or, you know, the experience that I have in the world and I'm welcoming other opinions and happy to talk about it."
ADVERTISEMENT
Article continues below this ad
Megan Rapinoe is also known for fighting for equal pay for women in the sport. In the new documentary LFG, Rapinoe talks about how tired she is with constantly having to prove her worth. The documentary highlights the U.S. women's national soccer team's lawsuit for equal pay against U.S. Soccer.