"It Wasn't My Goal": Simone Biles Reveals She Never Actually Wanted to Become a Mental Health Advocate
Published 10/11/2021, 1:14 PM EDT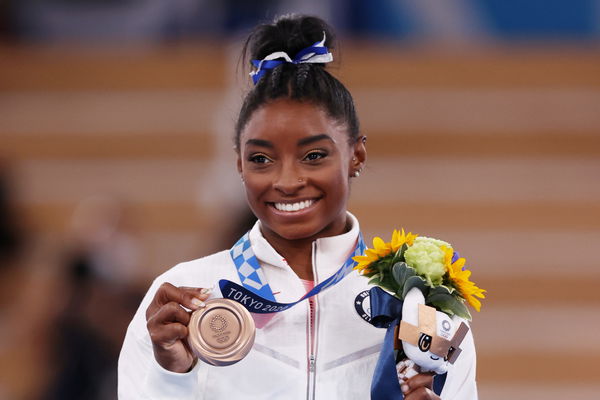 ---
---
Simone Biles is the most decorated gymnast of all time. Remarkably, Biles has 14 World Championship titles to her name, a feat no other American gymnast has ever achieved. Having bestowed pride upon her nation on several occasions, she is certainly a legend.
ADVERTISEMENT
Article continues below this ad
Biles first graced the mat at 6, and there has been no looking back for her ever since. However, during the 2020 Tokyo Olympics, she shocked the world, withdrawing from most of her events, citing mental health concerns.
ADVERTISEMENT
Article continues below this ad
This move not only rattled the world of sports but equally inspired millions. Biles made a mark by prioritizing her own mental health, encouraging athletes around the world to do the same. However, in a recent interview, Biles revealed that becoming a mental health advocate wasn't always her first choice.
Biles believes that everyone goes through the process differently
Withdrawing from the events in Tokyo, Biles spread the message that it is okay to prioritize yourself over success. Hence, she is now looked up to by aspiring athletes and many more. However, Biles didn't think of becoming a mental health advocate when she first took the big step.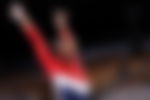 "Speaking out on mental health, I knew that I could have the possibility of becoming an advocate for that. But it wasn't my goal. It's not what I really wanted. It's like I am still going through my own thing so how am I supposed to teach people, "Hey.. you should do this or this,'" said Biles.
Biles understands that this process is subjective and different for everyone, so she cannot really advise anyone to follow in her footsteps. However, she finds it soothing to go through it together.
"But everybody goes through the process differently and there are different methods that work for each individual person. So I didn't really want to but at least we're going through it together and I can teach them something in that."
Simone Biles has donned the role remarkably well. She revealed the extreme pressure and struggle that she as an athlete went through, and how she dealt with it.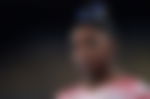 "Mental's not here": Simone Biles on walking out
Right after the qualifiers, Simone Biles had realized that something was wrong; Her body was telling her to stop and take a break. She recalls that she went for a 2.5 flip but could do only 1.5, which could have been fatal for her. That was the very moment she realized she could not continue.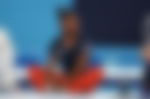 Regardless, she encouraged her teammates to go ahead and ace it.
ADVERTISEMENT
Article continues below this ad
"I just felt like it would be a bit better to take a back seat, to work on my mindfulness, and I knew the girls would do an absolute great job. And I didn't want to risk the team a medal," said Biles.
She did, however, win a bronze medal at the Tokyo Olympics. Before that, she had already won one Silver. Regardless of her tally, Biles is happy and content with her performance. However, fans now wonder, will she perform at the 2024 Paris Olympics?
ADVERTISEMENT
Article continues below this ad