A Possible Trade? Juan Soto Set to Move to New York Yankees in 2023 According to Sources
Published 04/06/2022, 9:15 AM EDT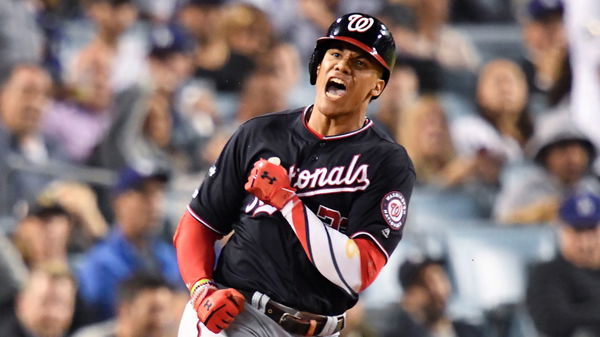 The New York Yankees have had an underwhelming season in 2021. With a wild card loss to the Red Sox confirming their exit from the post-season, the Yankees will have entered build mode for the seasons ahead.
And despite some great pickups for their roster, their fans will be clamoring for more. According to industry insiders, the 2023 off-season could see just that. Possibly with a trade for outfield hitter and young talent, Juan Soto.
ADVERTISEMENT
Article continues below this ad
Reportedly, the New York Yankees may have stepped up their pursuit of the young slugger and could trade for him as soon as next season. Moreover, the looming question remains around Aaron Judge and his extension, with his prescribed limit drawing near.
But few can deny that a line-up boasting Judge, Stanton, and Soto would not inspire fear in the hearts of pitchers across the league.
New York Yankees to target Juan Soto
Writing for the Athletic, journalist Jim Bowden has made some pretty bold predictions for the young slugger. Having rejected a $350 million extension from his current team, the Washington Nationals, it is clear that Soto knows he can command more in free agency.
Reportedly, the Nationals may be willing to up their offer to as high as $390 million, but Soto remains hesitant to commit.
And while the young hitter seems to be willing to wait for his free agency in 2 years, the Yankees appear keener on completing the move. The purported trade could comprise Soto moving one way with the Yankees sending a number of prospects in the other direction as soon as next season.
But, much to their disappointment, this could include emergent shortstop and #1 prospect Anthony Volpe. Granted the Yankees have committed to the young player previously but it appears as though the allure of a hitting star aged 24 is too much to resist for the Bronx Bombers.
A trade for Soto?
ADVERTISEMENT
Article continues below this ad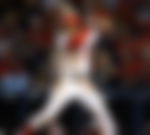 Soto is easily on the league's most valuable assets. Only aged 24, Soto already has a solid resume. He has helped the Nationals win a World Series title, won a batting title in his third season, holds two Silver Slugger Awards, and made his first All-Star appearance last season in year four of his major league career. Add to this, he's a lefty hitter and adds some variety to the team's hitting capabilities too.
The left-handed-hitting Soto has a career slash line of .301/.432/.550 with a .981 OPS. A stat line is undoubtedly set to see a bump with experience in the league. And if Soto is to turn out in pinstripes, the Yankees may just have locked down a future Hall of Famer. But to have to send top prospect Anthony Volpe is a heavy price to bear.
ADVERTISEMENT
Article continues below this ad
Watch This Story: Japanese Baseball Star Seiya Suzuki Smashes His First MLB Home Run For The Chicago Cubs
But what do you think? Would you trade future potential in prospects for the established ability of a slugging superstar? Or do you think the Yankees could compromise what they stand for if they let their talent go?
Edited By: Simar Singh Wadhwa