Anthony Volpe Shortstop Statement Puts New York Yankees In Do-Or-Die Position With Carlos Correa
Published 02/23/2022, 9:15 AM EST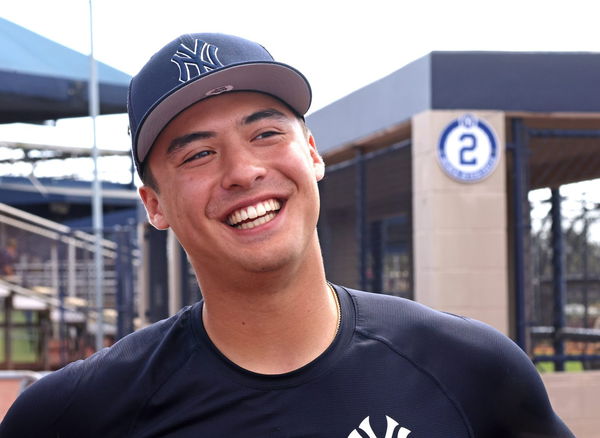 The New York Yankees are sitting on a pile of talent coming through their farm system. With top shortstop prospect Anthony Volpe already centerpiece in several discussions, there are unavoidable conversations about his elevation to the Majors. Volpe, though has displayed a championship mindset. He very much intends on getting to the majors, but the focus is different for now.
With the emergent class of new players lining up to play at the Bronx, Volpe undoubtably has competition. With shortstops Oswaldo Peraza also knocking at the door, there is also talk of the Yankees signing superstar Carlos Correa. However, Volpe seems to be showcasing the true marker of a great athlete. The ability to keep your head down and work on your skills. So much so that your elevation becomes imminent.
ADVERTISEMENT
Article continues below this ad
Anthony Volpe not worried about playing for the New York Yankees right now
The New York Yankees currently house a lack of position players on their roster for the shortstop position but Volpe said that he wasn't worried about trying to get to the Majors yet. The focus was still resolutely and clearly on getting through the minors and building the skillset.
Anthony Volpe said he's -not- thinking about how the Yankees have an open SS spot right now, instead focusing on getting better and moving up in the minor leagues.

— Brendan Kuty (@BrendanKutyNJ) February 22, 2022
ADVERTISEMENT
Article continues below this ad
To his credit Volpe has done exceedingly well when he has played in the minors. Playing both low A and High A ball, Volpe had a monster season to prove himself in 2021. In 109 games, Volpe slugged 27 home runs; all while driving in 86 RBIs. The minor leaguer had a stellar slash line too, logging a .294/.423/.604/.1027. Volpe was quick around the diamond too stealing 33 bases in that time.
But with Volpe only enjoying their second season in the minor leagues so far; not much is certain about their Major league ability. However, Volpe has clearly showcased solid stats in the minor leagues. And if for nothing else, he could be set for a promotion to the big leagues soon on the basis of his performances. And with Carlos Correa's signing stalling over the lockout, the future seems uncertain.
ADVERTISEMENT
Article continues below this ad
Watch This Story: From Gerrit Cole To Giancarlo Stanton – Top 5 Best Paid New York Yankees 
The day doesn't look far when Volpe could be set to don pinstripes in the Bronx Bombers' dugout. But until then, the allure of the potential awaits…