WATCH: Contreras Brothers Get Emotional as They Share a Heartwarming Moment as Rivals During MLB Game
Published 04/30/2022, 10:00 AM EDT

Follow Us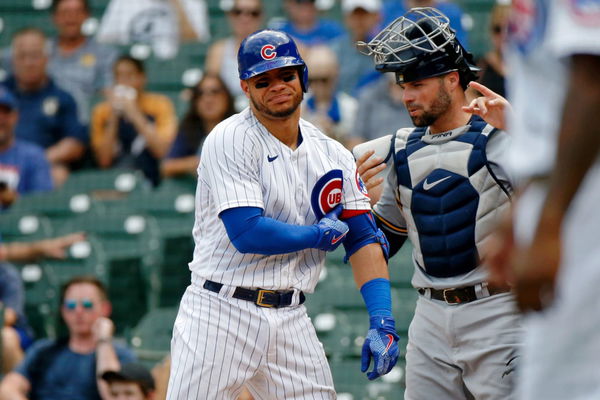 Baseball has its fair share of emotionality. With the game spanning over a hundred years, several moments from the archives can move the fans to tears. And in another such instance, the Contreras brothers, Willson and Williams, met on the mound in an embrace as they saw years of their efforts pay off. The two brothers took the diamond before the age to exchange lineups as the Chicago Cubs faced the Atlanta Braves.
MLB has already seen some emotional moments. Dusty Baker of the Houston Astros walked out to see his son exchange lineups during pre-season. And the regular season was not to be outdone. The Contreras brothers finally met in MLB. The game saw the brothers embrace and exchange lineups in an emotional moment.
ADVERTISEMENT
Article continues below this ad
Willson and William Contreras share a poignant moment
Both the Contreras brothers play catcher. And with William being called up to the Braves' MLB roster, a meeting was inevitable. It was clearly an emotional moment for both the brothers as they held each other in an embrace.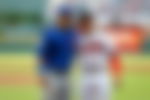 Willson, who plays with the Chicago Cubs, was only told about his brother's call up to the majors that afternoon and was understandably emotional about it.
Speaking after the game, Willson spoke about what about this made him so emotional. Said Contreras, "I always recall those moments when we were growing up together back home, just dreaming to get signed by somebody. And I'm crying because of the job that we put together to get to where we are."
"It was the moment of my life, believe me," he added.
ADVERTISEMENT
Article continues below this ad
The game culminated in a 5-1 loss for the Cubs. However, only one Willson Contreras played in the encounter. Hopeful for the future, though, the Braves' William Contreras, said, "The next thing we're looking forward to is when we play at the same time against each other."
ADVERTISEMENT
Article continues below this ad
Watch This Story: WATCH: Simone Biles Kick-Starts Opening Day for Her Favorite Team Houston Astros Against Los Angeles Angels
Fans, too, will be hoping to see the brothers face off against each other as soon as possible. But who do you think is the biggest baseball family to take the diamond in MLB? Do you think there can be a new legacy stronger than theirs?
Edited By: Simar Singh Wadhwa