"I Don't See Any Issue"- Aaron Boone Denies "Any Issues" With Marwin Gonzalez Regarding Brian Cashman's Comment on Houston Astros Controversy
Published 04/01/2022, 9:15 AM EDT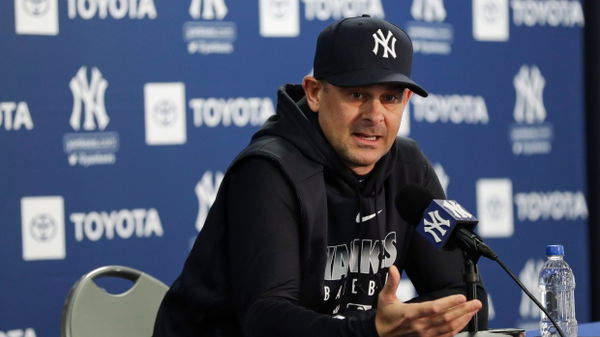 Truly, Aaron Boone is a players' manager. The recent comments by the Yankees GM, Brian Cashman, on the Astros scandal must have been difficult for Marwin Gonzalez to hear. But the New York Yankees manager, Aaron Boone, doesn't see any issue with the former Astros player.
It's been over five years since the Astros scandal unfolded in MLB, but the New York Yankees general manager, Brian Cashman, doesn't seem to have moved on from the incident. Even now, the Yankees GM blames the Astros for the World Series drought in the Bronx. 
ADVERTISEMENT
Article continues below this ad
Notably, earlier this month the New York Yankees signed Marwin Gonzalez on a minor league deal. However, the utility player was also a part of the Astros' scandal in the 2017 season.
Aaron Boone thinks the Astros' scandal is a thing of the past for Marwin Gonzalez
Aaron Boone believes that Cashman's comments are not going to affect Gonzalez. Because, after signing a minor-league deal with the Yankees, Gonzalez has put up excellent numbers in the spring training games. Not to mention, his performance might also earn him a spot on the Yankees' roster.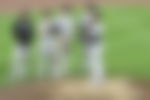 Talking to Marly Rivera of ESPN, Boone confirmed that the team has only one goal, and that is winning the championship. "I think we've all lived through those. You know, how's this going to react?… We have been through all that," Aaron Boone said. "And I'm not worried about that. I mean, we're playing for a lot… We're trying to go on a championship and that's our focus. And I don't see any issue."
ADVERTISEMENT
Article continues below this ad
When the reporter revealed, ever since his arrival, Gonzalez has been very open and apologetic about the 2017 scandal, and if he needed to address the issue, Boone said, "Yeah, I've not felt that need to do that with Marwin. I feel like Marwin has come in and fit in well with the guys."
ADVERTISEMENT
Article continues below this ad
Now, with the new season starting in a few days, and after Casman's comment on the Astros' scandal, it'll be interesting to see the Yankees play against the Houston Astros. As per MLB's schedule, the Yankees will clash with the Astros on June 24th in the Bronx.