"I Think I Learnt A Lot Today" – Anthony Volpe Opens Up About Being A Part Of Spring Training With Major League Roster
Published 03/20/2022, 10:30 AM EDT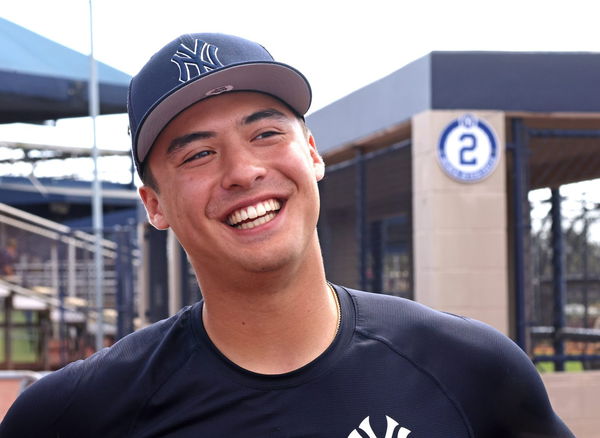 Anthony Volpe is possibly one of the most exciting prospects to emerge from the New York Yankees' farm system. With a growing following amongst the fan base too, the youngster is expected to make the leap to the majors soon. And while it seems unlikely to happen this season, his journey of growth has already begun. Being a part of spring training with players from the major leagues, Volpe seemed nothing short of eager to get the season going with the rest of his teammates.
Even though, New York Yankees house some roster deficiencies like those at shortstop, players like Anthony Volpe and Oswald Peraza are fast expected to make their big league debuts. And if they are to make a mark on the majors, it may be key for them to gain some major league experience. Even if it is simply by hanging around other major leaguers at the franchise. And Volpe seems to be taking every opportunity he can to learn and grow.
ADVERTISEMENT
Article continues below this ad
Volpe enjoying being around
This is Volpe's first experience of spring training amidst some major league stars in the Yankees. And ostensibly the first time that Volpe has experienced being around the major leaguers in his playing career. But he did not seem fazed by the opportunity in the least. Said Volpe, "It was awesome."
Anthony Volpe said one of the best parts of being with the Yankees during Spring Training is just sitting in the dugout and listening to how big leaguers operate pic.twitter.com/LtbqQGHC5w

— Talkin' Yanks (@TalkinYanks) March 19, 2022
Life is obviously a bit different for Volpe now that he's training with the Major Leaguers at the moment. And not an opportunity was lost on the youngster in acknowledging that too. "It was definitely an awesome experience getting the workout this morning then taking the bus over, " he said.
Volpe's lessons from camp
And like any other player, Volpe seemed to be itching to get back to his playing schedule as best he could whenever it came about. Volpe said, "It's good to get back in the flow of games the flow of fans turning up to the games so excited to get back out there."
ADVERTISEMENT
Article continues below this ad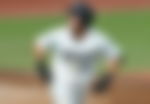 And Volpe is using this time to make sure he learns as much as possible from those around him. Surrounded by New York Yankees who he has seen growing up, Volpe seemed overjoyed at the prospect of simply having the opportunity to learn from them.
Volpe Said , "I think just being in the dugout the first couple of innings when I wasn't even playing just being a sponge keep my ears as open as I can and I think I learnt a lot today and I hope I can learn a lot going forward."
ADVERTISEMENT
Article continues below this ad
Watch This Story: Kris Bryant Leaves The San Francisco Giants For The Colorado Rockies – How Much Will He Earn In His New Contract?
Do you think Volpe is one for the future? Do you see him donning the pinstripes as the years roll by? And if he does, how successful do you think his stint with the Yankees will be?