New York Yankees Prospect Anthony Volpe Voices Opinion On 21 Year-Old Competition
Published 01/01/2022, 9:30 AM EST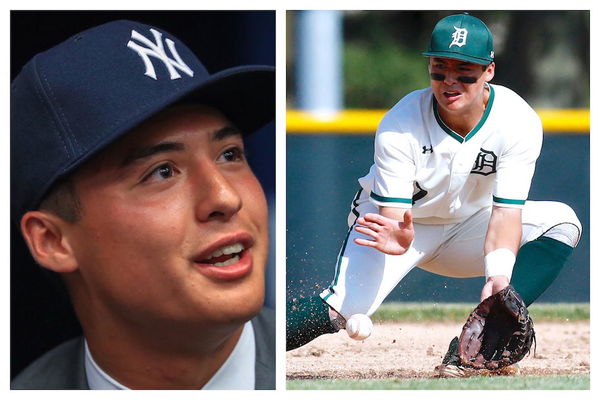 ---
---
The New York Yankees are preparing for a title challenge in 2022. And while their outfield seems to be relatively stable, they are in dire need of a shortstop. And while free agents Carlos Correa and Trevor Story may well be in the discussion, the true answer might come from the Yankees farm system.
ADVERTISEMENT
Article continues below this ad
The nature of the Yankee Stadium is that there is a definite degree of pressure. A big city franchise with a storied past, the Yankee Stadium one of the best platforms in the MLB. But who will take the filed at shortstop for the Yankees will be something keeping everyone up this off-season. At least after the lockout is lifted.
ADVERTISEMENT
Article continues below this ad
Free Agent signings
The free agent class of 2022 is immense. The Yankees though, will only realistically be considering Carlos Correa and maybe Trevor Story. Never mind that Correa is a target for half the franchises which is more than likely to make him a costly acquisition, if at all.
And while Story is not a long term prospect, the Yankees need a shortstop.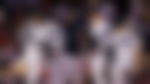 The apparent hiccup with both Correa and Story will be the age of the roster and planning for the future. And while Correa apparently needs a long term deal à la Seager, Story could too fall in the same predicament.
The signing of a superstar shortstop this season could also reduce the Yankees' chances at renewing Aaron Judge. And surely you don't let go of such a solid performer from the past two seasons simply for budget.
Shortstop from the farm system
The front office, with Aaron Boone and Eric Chavez, there may have already made a decision on the nature of the signing they are going to make and it could well be a stop gap signing this off-season while they wait to plug in Oswald Peraza, a touted 21-year-old Venezuelan prospect who finished 2021 in Triple-A.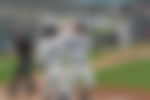 The Yankee farm system is also shouting for a chance to be given to Anthony Volpe, who, while only 20 has drawn comparisons with Hall of Famer, Derek Jeter.  Volpe has spent almost all of the 2021 season win the low-A or the High A bracket and has been a dominant presence.
Playing down the fact that the two will likely be each others competition for a spot, Volpe said,
ADVERTISEMENT
Article continues below this ad
"He's the man. He works super, super hard, and he's super talented."
Playing down the excitement of possibly donning the pinstripes next season, Volpe mentioned that his goals are definitely to be a multiple World Series winner with the Yankees.
ADVERTISEMENT
Article continues below this ad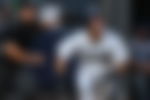 Said Volpe, "I think that's the long-term goal and I have a lot of short-term goals that I can control. So that's all I'm really focused about, and wherever the chips fall, they fall."