"Right Where You've Always Belonged" – Alex "A-Rod" Rodriguez Sends A Heartwarming Message To David Ortiz After Baseball Hall Of Fame Induction
Published 01/26/2022, 9:45 AM EST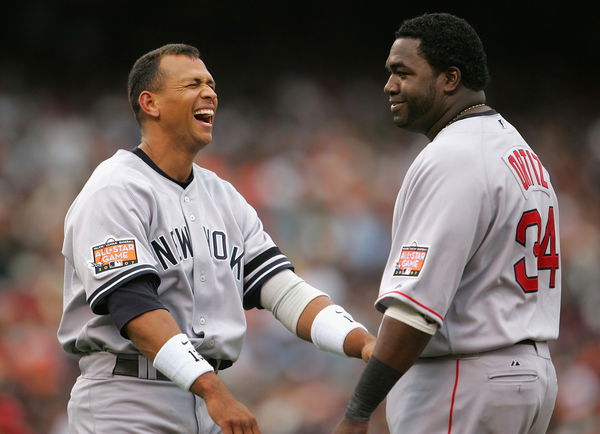 The Baseball Writer's Association announced their inductions into the Hall of Fame for 2022 recently. And despite notable reactions online stemming from the exclusions of Barry Bonds and Roger Clemens; one player has finally made it. David Ortiz's inclusion into the fold will certainly make the Red Sox legend look back at his legacy with a smile. And New York Yankees legend, Alex "A-Rod" Rodriguez agrees.
Getting elected to the Hall of Fame is an achievement. Getting elected on your first ballot is a statement. And David Ortiz has made a statement. They say that a nickname in baseball is reserved for the top; and it's something to say that David "Big Papi" Ortiz is one of them. Sporting a Hall of Fame level record, the man has obviously performed well at the top level.
ADVERTISEMENT
Article continues below this ad
David Ortiz inducted into the Hall of Fame
David Ortiz was big on October ball while at Fenway park; and his performances have been well rewarded. With his induction into the Hall of Fame, Ortiz takes his place in history as one of the top inductees in the hall. And Alex Rodriguez who squared up against the man, albeit in pinstripes, took some time out to recognize the achievement.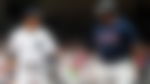 Posting several pictures of the two together A-Rod captioned the post quite positively. Congratulating Ortiz on the achievement and calling the player "a champion on and especially off the field."
Recognizing the player's career so far in the major leagues, Rodriguez said, "you are right where you've always belonged."
Setting out that a career the caliber of David Ortiz definitely deserves its due recognition.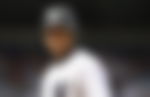 The Career of Ortiz
A native of the Dominican Republic, Ortiz stands as only the 58th first ballot Hall of Famer and the only "true" designated hitter to get through on his first try to the coveted museum in Cooperstown.
ADVERTISEMENT
Article continues below this ad
Ortiz's career started out with the Twins but it was at Fenway Park that he made a mark. It was in Boston that Ortiz emerged as a 10-time All-Star and seven-time Silver Slugger winner.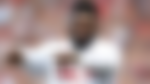 Sporting the Red Sox jersey, Ortiz had a career .286/.380/.552 slash. Registering as one of the offensive greats, he racked up  541 home runs, 632 doubles. Ortiz has a formidable offensive record, also sporting 1,768 RBIs (23rd all-time), 2,472 hits and 1,319 walks .
ADVERTISEMENT
Article continues below this ad
Ortiz was allotted recognition during his playing career too. He finished in the top five of the AL MVP voting in five straight seasons from 2003-07 and finished his career by leading the Majors in OPS (1.021). In one of the players in the league credited with longevity, Ortiz even ranked sixth in the MVP vote in 2016, aged 40.
All we can say is that Ortiz's Hall of Fame vote is well deserved and we hope he enjoys his storied career even from Cooperstown with his recognition well deserved.