WATCH: Bryce Harper's Insane Home Run Stuns Philadelphia Phillies' Manager Mid-Interview
Published 03/31/2022, 12:45 PM EDT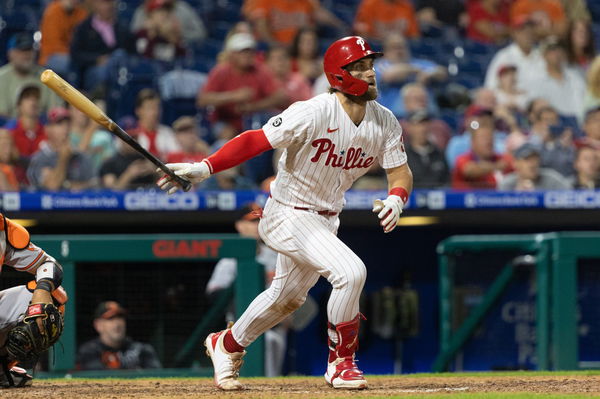 There are some constants in life. Death, taxes, and monster home runs from Bryce Harper. And with the 2021 NL MVP taking home plate in spring training, the games serve as a reminder of his sheer ability. With action ramping up to start on Opening Day, Philadelphia Phillies fans will be all ready to take on the new season. And with Bryce Harper in their ranks, they can be assured that the offensive output is not a concern area.
ADVERTISEMENT
Article continues below this ad
With the Philadelphia Phillies taking on the Detroit Tigers in a Spring Training encounter; Harper took full advantage of the opportunity. Taking home plate after an extended time away from the game due to the lockout, Harper marked his return with some signature power hits. Among them was one that even shocked and surprised manager Joe Girardi who sat min-interview as Harper launched the pitch into orbit.
Bryce Harper delivers on hitting prowess
Bryce Harper is ready to take on the 2022 season; and in style at that. His hits ran around the ground as Spring Training progressed. And saw the Phillies take on the Detroit Tigers in a match-up before the season begins. Bryce dispatched the ball deep into right field as it absolutely popped off his bat. And the ball stayed hit for a long time even after. With Harper rounding the bases to ding one up for the Phillies.
ADVERTISEMENT
Article continues below this ad
With the Tigers leading Philadelphia 7-0 at the bottom of the 6th, Harper launched one to bring up some movement from the Phillies to get the game going. And despite a great showing from the superstar, the Phillies eventually succumbed to the Tigers as the game wound down with a 7-1 score reflecting a win for the Tigers.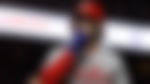 The Phillies however may well have been taking stock and leaving some fuel in the barrel as Opening Day nears. With a stacked NL East featuring the resurgent New York Mets; and even powerhouses such as the Washington Nationals, the Phillies are in for a challenge come 2022. And they might just be set to take it on head-on.
ADVERTISEMENT
Article continues below this ad
Watch This Story: Michael Jordan Once Hooked Alex 'A-Rod' Rodriguez To A Unique Habit On The Golf Course
But how do you see the year playing out? Do you think the Phillies have what it takes to win their division? Or maybe even the title? And with extended post-season slots, could the Phillies make it there?