Watch: David 'Big Papi' Ortiz Shares the List of Pitchers He Struggled Against the Most
Published 04/12/2022, 2:47 PM EDT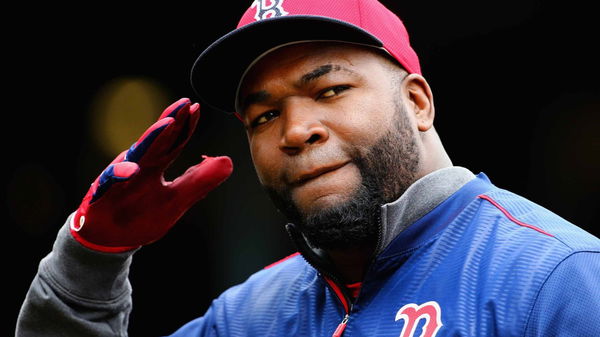 David 'Big Papi' Ortiz played in the MLB from 1992 to 2016 and is a highly respected personality of the sport. Recently, he appeared on the Kay-Rod show where he spoke about the hardest pitchers he played against in his 24-year journey in the MLB. Can you guess a few names?
David 'Big Papi' Ortiz appeared on 'Sunday Night with Kay-Rod' on Sunday, April 10th, 2022. Sports broadcaster Michael Kay and MLB Superstar Alex A-Rod Rodriguez hosted Ortiz. The three legends were interacting with one another while watching the game between the New York Yankees and the Boston Red Sox.
ADVERTISEMENT
Article continues below this ad
Ortiz has had a long career in the MLB, where he became the 3-time World Series champion and a 10-time All-Star. In his 24-year-long MLB journey, Ortiz played for the Seattle Mariners from 1992 to 1996. The Mariners traded him to the Minnesota Twins for the MLB 1997 season, where he played for them till 2002. In 2003, Ortiz joined the Boston Red Sox and played for them till the end of his career.
David 'Big Papi' Ortiz shares his list of the toughest pitchers he has faced
On Sunday, Alex A-Rod Rodriguez asked David Ortiz about the toughest right-handed and the toughest left-handed he faced in his MLB career.
"Well you know, when I was playing against Pedro, he was tough…Pedro had like four different pitches that he can throw at any kind…I also like Mike Mussina, who also had great stuff. I didn't do good against Mariano Rivera…He was tough."
"Now if you go down to the left part of the play…Andy Pettitte had great stuff, and David Wells had great stuff. Al Leiter…had good stuff," said David 'Big Papi' Ortiz during the interview.
ADVERTISEMENT
Article continues below this ad
What an amazing list! These pitchers were one of the greatest pitchers to play the sport. Pedro Martinez, Mike Mussina, Mariano Rivera, Andy Pettitte, David Wells, and Al Leiter quite phenomenally ruled baseball from 1990 to 2010.
They were considered incredibly fast and precise when it came to pitching. The new generation has been learning quite a few tricks from them in terms of pitching and from David 'Big Papi' Ortiz, who scored 541 home runs in his 24-year MLB ride.
ADVERTISEMENT
Article continues below this ad
Do you think David missed some notable names in his list? Let us know in the comments section below.