WATCH: New York Yankees Star Aroldis Chapman Smashes a Perfectly Clean Hit in Training
Published 03/07/2022, 8:45 AM EST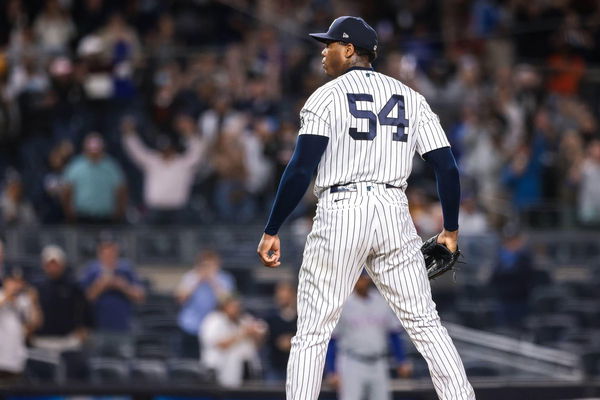 With the ongoing lockout in MLB, it has put a pause on every baseball activity. But, MLB players haven't stopped their training and are ready to play the game as soon as the season starts. A few players like Aroldis Chapman, Carlos Correa, and Juan Soto are already preparing to have a better season in Major League Baseball.
Given that the regular season has been delayed, this free time might be a blessing for those players who didn't have a good season last year. And when it comes to the New York Yankees star pitcher Aroldis Chapman, he also had an average season in 2021. 
ADVERTISEMENT
Article continues below this ad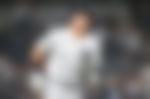 But this time, the Yankees star will be looking to have a great season and help his team to win a few games.
New York Yankees' Pitcher Aroldis Chapman Turned Himself into a Pro Hitter
There is no denying that Aroldis Chapman has been a great player in MLB over the past 10 years. But ever since he has joined the Yankees, Chapman has not left his mark on Major League Baseball. However, if everything goes right for Chapman, then he might actually have a better season this year.
Over the last 10 years in his career, Chapman has been playing as a pitcher. But it is possible that this season the Yankees player might also play as a hitter. Recently, a video has been doing rounds on the internet in which the MLB veteran has been hitting a ball with pure perfection.
ADVERTISEMENT
Article continues below this ad
Henceforth, the MLB has allowed a universal DH (Designated Hitter) to play across the league, the new rules may benefit the Yankees might benefit from Chapman.
Aroldis Chapman in MLB
The 34-years-old Yankees pitcher has been playing in Major League Baseball for 13 years. Chapman made his MLB debut with the Cincinnati Reds in the 2010 season and played for them until the 2015 season. Later, in 2016, he played one year, and luckily the same year, the Cubs won the World Series that year.
ADVERTISEMENT
Article continues below this ad
Watch This Story: Alex "A-Rod" Rodriguez Tried Being a Salesman for Minnesota Timberwolves Tickets for a Day 
However, after playing one season for the Cubs, Chapman joined the Yankees and since then he is at the Bronx.