"Always Gonna Miss the National Hockey League": Wayne Gretzky Left His Fans in Tears With Emotional Retirement Tribute in 1999
Published 11/29/2022, 3:45 PM EST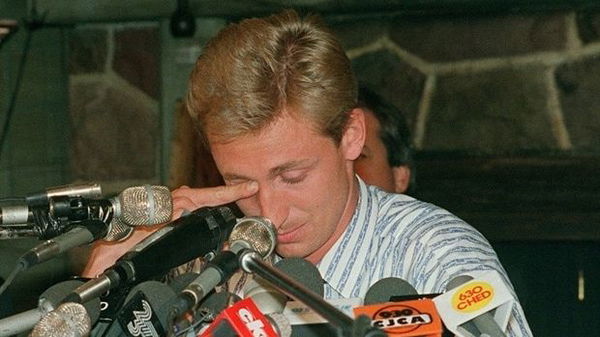 Few people will argue the claim Wayne Gretzky was the greatest ice hockey player of all time. From 1977 to 1999, Wayne rules the skating rink with game sense, skill and stamina. A goal-scoring machine, Wayne scored 894 goals in the NHL, a record still standing today. When he retired in 1999, Wayne held 61 career records in the NHL.
Wayne found success with every team during his three-decade career. Wayne announced he would retire after the New Your Rangers' last game for the 99′ season. However, when it finally came time for the fans to say goodbye, Gretzky's words moved them to tears.
ADVERTISEMENT
Article continues below this ad
Wayne Gretzky fought back tears
Wayne played his last NHL game in Canada on April 15, 1999. After returning to New York, Gretzky announced his retirement the following day. "It's obvious today I officially retired… Sunday will be my last game," said Gretzky while holding back tears. He also said people who knew he was about to retire had asked him, "Why?"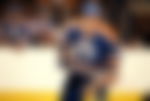 "It's a gut feel something that I really believe is right. I love the game, I love to play," said Wayne. "Whether it's now next year or 20 years from now, I'm always gonna miss the National Hockey League, and the game of Hockey," said the four-time Stanley Cup winner. He also said everything he owed everything to the NHL and the sport.
"I loved it. And thank you," said Wayne at the end of his speech. Two days later, on April 18, The New York Rangers Played against The Pittsburgh Penguins. However, the Ranger lost the match after conceding two goals. Wayne assisted the only goal the Rangers scored.
Tampering with the lyrics of the national anthem of any country would spark an international incident. However, an exception was made for the Ice Hockey legend before his final match began. Singer Bryan Adams changed the closing line of Canada's national anthem. Instead of singing, "O Canada, we stand on guard for thee." Bryan sang, "We're going to miss you, Wayne Gretzky."
A million dollars to think?
During an interview with Graham Bensinger, Gretzky revealed an astonishing fact. "I think it was the day before your final game. The Rangers owner delivers you a check for a million dollars… Just to consider playing another year?" Graham asked Gretzky. Gretzky said the Rangers' owner James L. Dolan offered him the money, no strings attached.
ADVERTISEMENT
Article continues below this ad
While Gretzky could've taken the money, he didn't because Gretzky had already decided. There was no room for second-guessing. 
ADVERTISEMENT
Article continues below this ad
Watch this story – From being an ice hockey fan to hunting, Brock Lesnar's favorite hobbies outside of WWE
Gretzky's emotional tribute moved many fans to tears. Over two decades later, no one has come close to matching Gretzky on the field. 
Edited By: Vineet Nandwana