Watch: When Mass Monsters Ronnie Coleman, Jay Cutler, and Günter Schlierkamp Hijacked Mr. Olympia Press Conference to Pose
Published 02/05/2023, 6:00 PM EST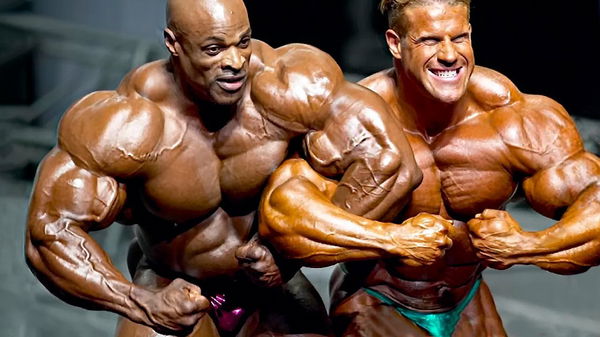 The golden era of bodybuilding is alluded to when legendary bodybuilders like Ronnie Coleman, Jay Cutler, and Günter Schlierkamp competed against each other. The confidence of such mass monsters was such that they were up for taking challenges everywhere possible. A similar iconic scene was witnessed in 2004. Ronnie Coleman was teased for getting dethroned when he was in the running for becoming Mr.Olympia for the 7th time. 
In that press conference, contemporary bodybuilders, Jay Culter, and Günter Schlierkamp joined Coleman, in flexing their pumped muscles. The three hijacked Mr. Olympia's press conference and it was the best thing that could have happened. 
Ronnie Coleman flexed his physique along with Culter and Schlierkamp
ADVERTISEMENT
Article continues below this ad
During 2004 Mr. Olympia's press conference, Ronnie Coleman was told that his opponent bodybuilder has claimed to dethrone him. Moreover, the opponent had also created the hype that he was 300 pounds and could beat Coleman easily.
To this statement, the then-six-time Mr.Olympia gave a befitting reply saying, "I didn't win Miss Olympia six times by just sitting around on my bu** you know this is what people say. I won six times because I worked my bu** off in the gym and did what I had to do and you know I come to this show every year doing what I have to do and I'm here you know this year just like I was here the last six year doing what I had to do."
Talking about his opponent's 300 pounds body weight hype, Coleman stated that he weighed the same pounds too, and was up to flex his body in the conference. Soon, Coleman took off his jacket in the press conference flexing his bulky body. Gradually, he walked to Mr. Olympia's stage. While he took off his skin-tight t-shirt, his contemporaries Jay Cutler and Günter Schlierkamp joined him.
ADVERTISEMENT
Article continues below this ad
The three of them began to take off their t-shirts and pants flexing their eye-popping muscles. Their show hijacked the essence of the press conference as the media was more interested in capturing the moment which later became a big headline for Mr.Olympia 2004. 
Jay Culter once challenged Ronnie Coleman
The healthy competition between Ronnie Coleman and Jay Cutler was one of the greatest aspects of the golden period of bodybuilding. Before Cutler dethroned Coleman in 2006, he promised to dethrone the unbeatable eight-time, Mr.Olympia. 
ADVERTISEMENT
Article continues below this ad
Watch This Story:  From Ronnie Coleman to Jay Cutler Bodybuilding Legends Show Up at Arnold Classic 2022 in Absence of Arnold Schwarzenegger
To this, a tough Ronnie Coleman replied in another video that Culter was crazy and that "He ain't in his right mind."  However, the two met in more interviews that year and they openly challenged each other. Ultimately, it was all taken in the sense of a healthy rivalry.