Gold Medalist Horse-Rider Pours Heart Out Upon Losing Beloved Cancer-Ridden Horse: "I Have Loved You Endlessly"
Published 03/16/2023, 10:54 AM EDT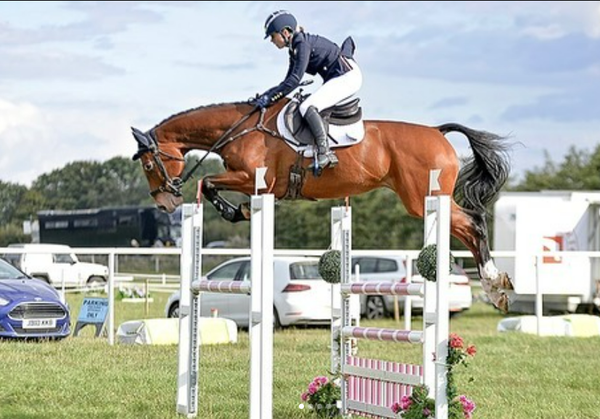 One of the special relations an equestrian share is with their horse. The horse becomes a part of daily life, and thereby over a period of time, a bond develops between the two that goes beyond emotional. Similar were the feelings of equestrian Millie Juleff, who recently bid adieu to her favorite animal forever. Unlike Zonik, whose shocking injury led to his demise, Juleff's horse suffered from a terminal illness for some time. And his passing was a tear-fest for Juleff. Here's how she paid tribute to his horse, 'All We Need'.
Juleff was inconsolable. She even took to her Instagram to share a picture of herself on top of 'All We Need' with a heartfelt caption that captured the essence of what he meant to her. She called him 'Monti' out of adoration.
Millie Juleff lost a partner for life
ADVERTISEMENT
Article continues below this ad
As per a Horse&Hound article, Mille Juleff said, "Monti, you have given me your all from day one and I have loved you endlessly and always will". It was nothing short of a eulogy for Monti by his closest human contact. Juleff continued, "Never a day went by where you didn't make me smile or laugh or feel filled with love by just the presence of you".
 

View this post on Instagram

 
Juleff won a young rider team gold medal and a double clear at the first-ever four-star the duo faced together. She thus aptly recalled praising his agility by saying, "The feeling you gave me was like no other, you made me feel like I was truly flying. The most talented horse I will ever sit on". It was a tribute like no other.
'All We Need' aka 'Monti' was put down on 13th March after prolonged suffering from cancer. He was merely 12 years old when he died but had already charted some great heights in his life. He started with Juleff from BE100 – a class dressage test with a maximum showjumping height of 105 cm and 100 cm for cross country and went to European YR Gold. But Monti has had a long journey before reaching Juleff.
It won't be easy for Juleff to move on
ADVERTISEMENT
Article continues below this ad
Nicola Wilson, a multi-medal-winning British event rider, won as many as nine medals at the national level with 'All We Need'. From BE100 to the intermediate level, the pair scored two top-10 finishes. However, Mille Juleff took over the ride during the 2019 season, and the two have been together since.
 

View this post on Instagram

 
ADVERTISEMENT
Article continues below this ad
This developed a bond between them like nothing else, and the pair soon caught everyone's attention during the 2021 season. They ended up five times inside the top-five placings at the three-star level. All of these professional achievements were stepping stones to their relationship building, but what it truly meant to have a companion by her side, is something only Juleff can experience. And now that Monti is gone, a feeling of emptiness might stay with her for a period of time.
Watch This Story: Baby Biles turns into Simone Biles, mother teases about her joining gymnastics
Edited By: Simar Singh Wadhwa