Rare Video Shows Hockey Fight Taking a Hilarious Turn With Players Ending Up Dancing
Published 01/15/2023, 4:45 PM EST

Follow Us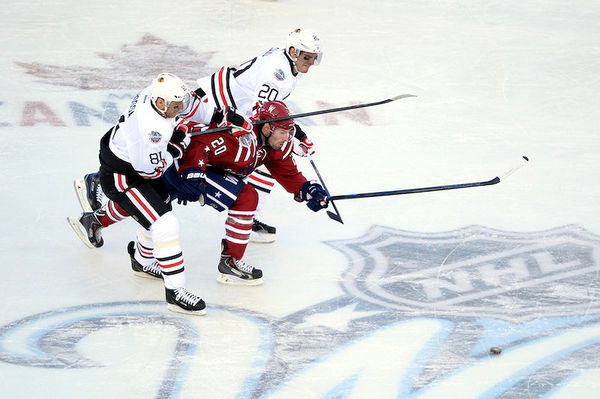 Ice Hockey certainly is a gracious sport. Players move around in their Hockey skate, creating a motion that's almost reminiscent of a ballroom dance. This is exactly what happened in a hilarious incident from four years ago, involving two Ice Hockey players.
In a video from February 2019 that did the rounds on social media, two Ice Hockey players come face-to-face for a fight. However, they end up doing a sort of ballroom dance, with arms over each other's shoulders. The video was shared by Barstool Sports on Instagram.
When two Ice Hockey players shifted their motive from fighting to dancing
ADVERTISEMENT
Article continues below this ad
In the clip, also shared by the Instagram page Spittinchiclets, we see the two Hockey players dropping their sticks aside and posing for a fight in the traditional fist-closed, arms upright position. They were circling each other on the Ice rink with their skates on. They twisted and twirled more than a few times and it was evident that a fight was impending. Just then, their action shifted.
 

View this post on Instagram

 
The Hockey players, one in an All-Blue outfit and the other in a Blue-White, held each other and almost started a fight. The stadium was occupied with audience members who maintained their silence till then. However, their fight suddenly shifted to a dance. They turned the entire ice rink into a dance floor, with the audience cheering in the background.
In the clip, the yelling of spectators gets audibly louder as they continued their dance. They floated around the rink, holding each other by the waist and shoulder. Such an unexpected spectacle definitely called for some light humor in an otherwise very tense atmosphere normally present during a match.
ADVERTISEMENT
Article continues below this ad
While it is not clear about the venue or the players involved, this small clip became viral at the time. It spread smiles all across and people took heart to the positivity involved. In a piece of similar news a few months down the line, two NHL players did the same.
WATCH THIS STORY – Here's A Quick Look At Top Homes Owned By NHL Players
ADVERTISEMENT
Article continues below this ad
Brian McGrattan and Colton Orr were famous for their on-rink fights, most famously their on-ice boxing matches that often battered and bruised them on many occasions. However, in September 2019, the two reunited on Ice, but this time they danced instead of fighting. Both were retired and weren't in their traditional Hockey costumes. Nevertheless, they put some smiles on everyone's faces.
What do you think of this fun turn of events?