"High Schoolers Faster Than That": Usain Bolt Dragged Into Debate as Tyreek Hill's Dominating Win in 60M Event Shocks Sports World
Published 03/12/2023, 6:14 AM EDT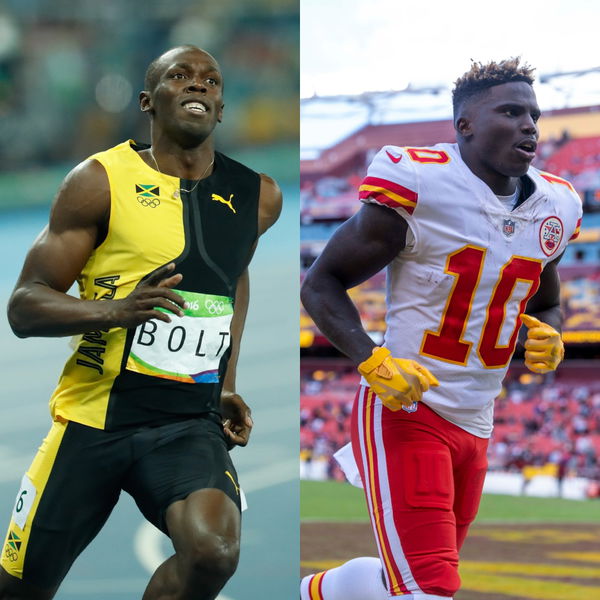 Tyreek Hill didn't receive the nickname 'Cheetah' for nothing. The 29-year-old may be a wide receiver for the Miami Dolphins in the NFL, but he possesses the ability to outsprint anyone on any given day. However, is that enough to challenge the world's fastest man? This question has been at the center of a feud or banter between the two athletes. It has kept the world of NFL and athletics hooked for years. Now, a recent win at the 60-meter race by Tyreek Hill refueled the debate among fans on social media.
Tyreek Hill and 9XOlympic gold medallist Usain Bolt have been going at each other, ever since the former incited a war of words with Bolt. Now, over a tweet that shows Hill's prowess at the recent 60m race, fans are reigniting the verbal duel from 4 years ago.
Tyreek Hill's lightning run reignites old debate
ADVERTISEMENT
Article continues below this ad
"Tyreek Hill just WON men's 60m at USATF Masters Indoor Championships" read the tweet by Bleacher's Report. Hill not only won, he completely owned his competitors, winning by some margin. The charismatic athlete ran with his sunglasses on, looking dapper as ever. Although he has been running the 60-yard dash at the NFL (despite the 40-yard dash being more popular there), this was Hill's first appearance in a Track&Field event since 2014.
Hill took an extremely early lead and finished off the race by a few meters ahead of the second position. This hearkens back to when Usain Bolt finished a 40-yard dash in 4.22 seconds in 2019. This was during the Super Bowl, which is also when Bolt met Hill for a series of speed challenges. Hill's words of confidence to beat any athlete, let alone Bolt, in a race, has also faced criticism from the entire athletics community before.
The well-intentioned verbal duel between the two saw some climax after all. However, an intermediate race of 70 meters between the two was yet to transpire. Usain Bolt, who retired from athletics in 2017, was well aware of the challenges he would've potentially faced in coming up against the 'Cheetah'. Now, in 2023, fans are once again excited at the prospect.
Six years after Bolt's retirement, fans are still eager for a 'Hill vs Bolt' race
Here's how some of the fans reacted to Hill's victory at USATF. They also dragged Usain Bolt for obvious comparison.
"You realize he ran 6.70, right? Solid time but there are high schoolers faster than that"
"Usain Bolt's time was 6.31 and you're telling me high school kids are running faster times? Lmfao"
if you watched usain bolt race, he is usually even if not behind others at the 60. his slow start is his main criticism

— Jelani🐊 (@jelaniforde) March 11, 2023
And if you watch Hill, he slowed down at the end because he had them beat. Put him up against real competition and I bet he is running just as fast.

— S2W Nito (@S2WNito) March 11, 2023
Hill slowed down at the end, he had them beat. Let's bring him real competition to see him at his fastest.

— S2W Nito (@S2WNito) March 11, 2023
Bolt is not and has never been a 60 runner. he shouldn't even be a sprinter he has a middle distance body but he's simply that fast at the 1 and 200

— Vix (@TheVixium) March 11, 2023
ADVERTISEMENT
Article continues below this ad
Usain Bolt never ran a 60💀 6.34 by Christian Coleman is the WR and would gap Tyreek by about 5 meters ( a lot ) in this race Lmao . Learn track before you act like you know what you're talking about my boy

— Peyton Manning (@PManning4Hea) March 11, 2023
ADVERTISEMENT
Article continues below this ad
Whether Bolt will take the field once again to race Miami Dolphins' fastest NFLer alive today, is yet to be seen. But for now, Hill's performance is definitely catching eyeballs. The 29-year-old 'Cheetah' lives up to his name.
WATCH THIS STORY: From Flojo to Elaine Thompson Herah, top 5 fastest 100m women sprinters
Edited By: Jayant Chhabra