"I'm Not the Next Usain Bolt or Michael Phelps.": Here's Why Simone Biles Lashed Out Against Comments Comparing Her to Men Athletes in 2016
Published 10/08/2022, 10:45 AM EDT

Follow Us
Simone Biles has become a benchmark for gymnastics. Biles' incredible performance at the Rio Olympics 2016 earned her several records. The biggest of these was becoming the first American woman to win four Olympic gold medals in a single outing. After such a stellar performance, many compared her with other legends. And not just with elite gymnasts, but they compared Biles to male Olympic legends like Michael Phelps and Usain Bolt as well.
However, Biles soon shut down the comparisons with a single iconic statement. What Biles had to say after winning gold in the individual all-around category only helped skyrocket her fame.
ADVERTISEMENT
Article continues below this ad
Simone Biles didn't want to be compared to anyone
Simone Biles was 19 when she competed in the Rio 2016 Olympic games. Biles made history in her first games by becoming the first woman to win four gold medals in a single outing since 1984. In 2016, After her big win, Biles gave an interview where she said, "I've finally done it. It's so exciting,". However, Simone also said, "I'm not the next Usain Bolt or Michael Phelps. I'm the first Simone Biles," and with a single sentence Biles shut down any room for unsavory questions and comparisons.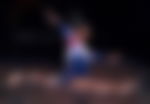 It's no secret that gymnasts have to go through rigorous training since childhood. Biles herself trained for endless hours to perfect her routine. The gold medalist said, "I had to remind myself to keep doing the routines we practiced. I'm so relieved," and, "The floor was my best moment."
Biles lashed out against comparisons because during the 2016 games as many women had to face similar issues. For example, commentators repeatedly compared the swimmer, Katie Ledecky, who also won four golds to Michael Phelps.
ADVERTISEMENT
Article continues below this ad
Michael Phelps won 28 medals throughout his career, 23 of which were gold. While legendary sprinter, Usain Bolt is the fastest human alive, with 8 Olympic gold medals. However, Biles didn't want her historic achievement to be overshadowed by male athletes from other disciplines. After all, Simone Biles is only the fifth woman in history with such an achievement under her belt.
Michael Phelps praised Biles for choosing mental health over gold medals
Simone Biles hasn't just set Olympic records and won a bunch of medals. During the 2021 Tokyo Olympics, the four-time gold medalist withdrew from the all-around finals because of mental health reasons. Phelps, who has also been vocal about athletes' mental well-being, lauded Biles' bravery. He said how Biles, an active competitor, helped highlight what elite athletes go through.
ADVERTISEMENT
Article continues below this ad
Watch this story – Jonathan Owens' Heart Melted When He Saw Gymnastics Icon Simone Biles Cheering Up for Him
Simone Biles was and continues to be a trailblazer. She made history in her first Olympics and cemented her legacy with her performances. Biles refused any comparisons with athletes who had many more Olympic games under their belt. Finally, Biles was also brave enough to put mental health first. It's safe to say that Simone Biles is a name sports fans will remember for decades to come.
Edited By: Pritam Priyedarshi