"See Men Celebrating…": USWNT Star Alex Morgan Once Called Out Haters for Their 'Double Standards' Over Her Tea-Sipping Celebration
Published 11/01/2022, 8:15 PM EDT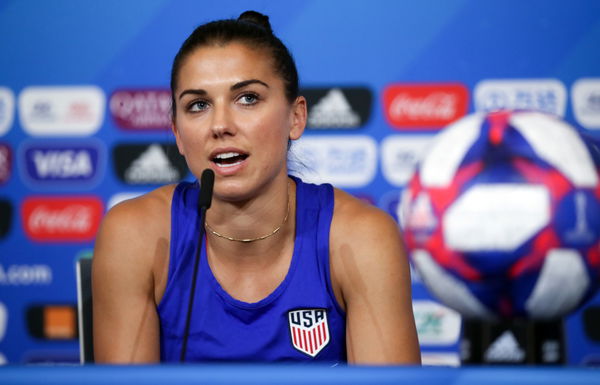 Alex Morgan, a USWNT star, played several sports before finding her passion for soccer. She is one of the most influential and top-paid women players. The soccer icon played a crucial role in her country's 2015 and 2019 World Cup wins. However, Morgan, a thriving personality, once came under fire for miming sipping tea in celebration after a goal against England at the 2019 FIFA game.
In 2011, Morgan scored her first goal in the FIFA Women's World Cup semi-final clash. She was also the youngest member of Team USA then. An Olympic gold medalist and recipient of several accolades, Morgan defined the reaction to her celebratory gesture in 2019 as a double standard and drew a comparison with her male counterparts. 
ADVERTISEMENT
Article continues below this ad
Alex Morgan questioned the gender bias 
Scoring a goal on the world stage is a moment of glory and celebration. Morgan expressed her displeasure over the criticism of her spontaneous reaction rejoicing in the moment. Detailing on those lines, she stated she felt there was a double standard for females in sports "to feel like we have to be humble in our successes and have to celebrate, but not too much or in a limited fashion."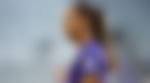 Besides, she remarked on the outrageous gestures her male counterparts make, stating, "You see men celebrating all around the world in big tournaments, you know."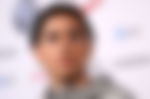 Explaining the idea behind the tea pose, she said that the gesture was related to "Game of Thrones" star Sophie Turner, whose posts on social media use the phrase "and that's the tea" while she sips tea.
Morgan has also been vocal about unequal pay
ADVERTISEMENT
Article continues below this ad
In 2019, the USWNT co-captioned by Morgan raised their voices against unequal treatment–pay and working conditions and demanded equality.
Eventually, they settled earlier this year. The terms of the deal reveal that the federation would pay $24 million to USWNT members. Besides, it also decided to pay men and women equally in all future tournaments and friendly matches (non-tournament games).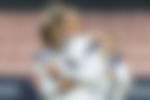 Notably, the USWNT won the match against England that sprang up with the tea-sipping controversy. What do you think about the criticism? Is it right to define it as a 'storm in a tea cup' situation?
ADVERTISEMENT
Article continues below this ad
Watch This Story: Megan Rapinoe, Alex Morgan and other highest-rated USWNT players on FIFA 2022
Edited By: Melroy Fernandes