"Most Humans Couldn't Do This": World's Best-Surfing Miniature Bull Terrier Surprises Fans With Never-Seen-Before Skills
Published 03/17/2023, 2:51 PM EDT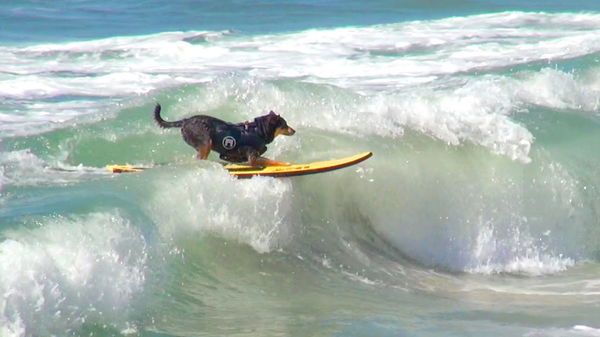 Surfing is among the most unique water sports in the world. It can be as competitive, or fun and laid-back an activity, as one wants. Hence, surfing has become popular with everyone, from aspiring surfers to families looking to unwind. People even got their pets involved in the sport, and dogs turned out to be some of the most skillful surfers among all pets. Earlier, a video surfaced on social that showed the astonishing skills of a bull terrier.
The 42 seconds long video is a montage of the dog's best skills, and surfing fans were in awe of the canine. So how good is the dog on the surfboard? Let's take a look.
This canine's got some moves
ADVERTISEMENT
Article continues below this ad
On March 15, the Facebook page MetDaan Animals uploaded a video of the dog having fun at the beach with its owners. "Meet the world's best-surfing miniature bull terrier!" read the caption. The short video is a montage of various clips showcasing the dog's mastery of balance on the surfboard.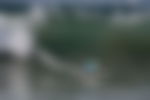 The clips start with the owners of the dog sliding an empty surfboard across shallow waters while the dog chases it down. When the terrier reaches the board, it jumps on it, generating more speed and sliding across the water. The various clips show the owners sliding the board across the water at different speeds and angles. Yet, every time, the bull terrier managed to catch up to it. 
In one clip, it even makes a sharp turn with the board. The video impressed surfing fans so much that it went viral, generating 1.6 million views, 117,00 reactions, and over 2500 comments. Let's look at what so many surfing fans commented on the Facebook video.
Surfing fans were in awe of the dog's skills
Most people were absolutely blown away by the dog's skill and how well the owners trained their pet:
"So awesome, and I love the dog."
"Amazing dog! Brilliant to watch!"
"Awesome. He's a gorgeous dog so clever."
"Cool, good job training."
"This dog is super athletic! Most humans couldn't do this. You can tell he is having a ball, and his family loves him dearly."
However, some fans felt the video uploaders had got some details wrong.
ADVERTISEMENT
Article continues below this ad
"Not surfing it's skimboarding."
"He isn't a miniature pit bull, he's an English Bull Terrier, a very noble breed."
"That's skimboarding. Surfing is catching a wave. He's having fun! I would paddle him out n push him on a small wave. He might like it!"
ADVERTISEMENT
Article continues below this ad
Watch this story | "It takes a toll on you" The Surfing GOAT Kelly Slater Dazzles His Fans With The Trailer Of His Upcoming Show
What did you think of the dog's skills on the surfboard? Write your thoughts in the comments.