Watch: Heavyweight Surfer Displaying Never-Seen-Before Skills Will Leave You Stunned
Published 03/10/2023, 10:45 AM EST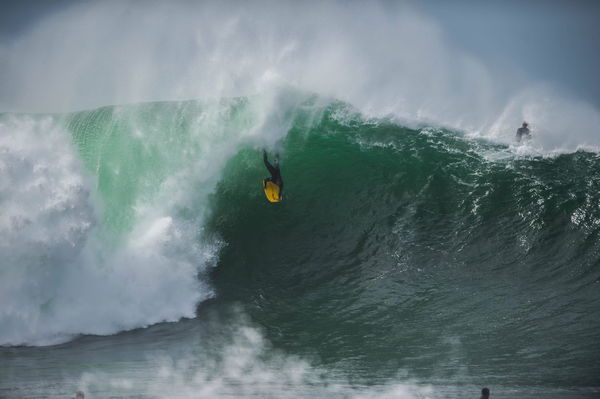 When one thinks of a surfer, the first thing that comes to mind is a person with a lean body making their way into the waves. However, Shawn Briley, a veteran surfer, shatters the stereotype. Though Briley has a bulky body type which one doesn't get to see often in surfing, his exceptional skills on the waves have earned him a reputation as one of the best surfers in the world. The champion surfer is again in the limelight after his breathtaking video came up to the surface. 
He is particularly skilled at big wave surfing, which involves riding at least 20 feet tall waves. 
Heavyweight surfer showcases amazing skills in a video
ADVERTISEMENT
Article continues below this ad
The Hawaiian surfer is known for his ability to ride some of the biggest waves and his recent video shows why. Briley was seen showcasing his exceptional skills as he made his way through some intense ocean currents. The surfer was riding some gigantic waves. This type of surfing requires an incredible amount of skill, strength, and courage, and Briley has all of these qualities in spades.
 

View this post on Instagram

 
Considering the heavy weight of the surfer, the man's balance on the surfboard left the audience stunned. There came an instance when Briley was lost in the midst of waves and it felt like the attempt would fail. But to everyone's surprise, the heavyweight surfer came out in style with perfect balance. The loud cheers were enough to describe people's excitement after seeing the masterclass. 
The fast-paced waves didn't impact Briley's confidence, considering he was born and raised in Hawaii. He began surfing at a young age and quickly developed a natural talent for the sport. As he grew older, he honed his skills and began to compete in local and regional surfing competitions. However, he has recently been compared to another iconic surfer, Jimbo, and this comparison has sparked a lot of interest and debate among fans of the sport. 
ADVERTISEMENT
Article continues below this ad
Why Briley is Compared with the surfing icon Jimbo?
Jimbo, aka Mr. James Pellegrine, is a sulphur known for charging through super critical waves and being overweight. Both the stars look alike, considering their physique and unique style. In a picture on Reddit, Briley's picture was misinterpreted as Jimbo's. Fans of both star surfers often engage in online battles. "Briley nowhere close to Jimbo, but he's also one of the heavyweight surfers", a fan wrote on the post. 
ADVERTISEMENT
Article continues below this ad
At first glance, the comparison might seem a bit far-fetched. Shawn Briley is a relatively new face in the surfing world, and he has yet to achieve the same level of fame and success as Jimbo. However, those who have watched Briley surf know that he has a unique style that is reminiscent of Jimbo's. Both surfers have a fearless approach to big waves and are willing to take risks that most other surfers would shy away from. 
WATCH THIS STORY: Human vs AI Team USA Gives Artificial Intelligence a Try to Do Surfing
Edited By: Debmallya Chakraborty