"Very Sorry to Hear": 72-Year-Old American Legend's Death Leaves Sports World Devastated
Published 03/14/2023, 6:32 AM EDT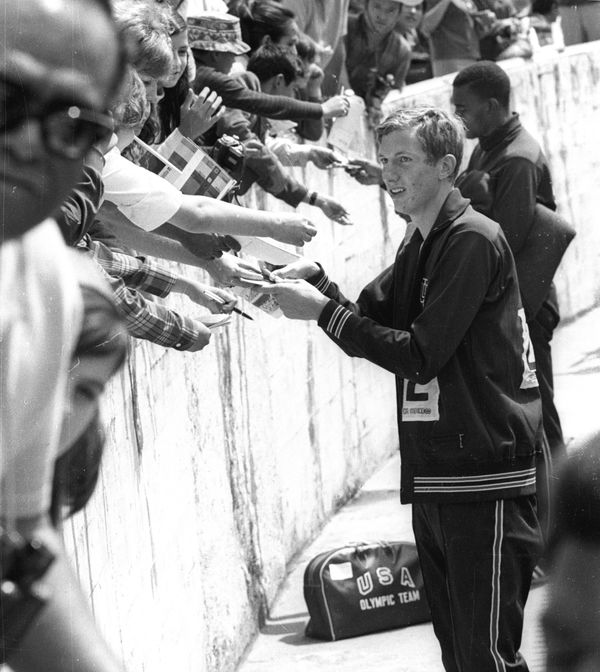 Olympics throughout the years has seen some of the most innovative athletes ever. Either through sheer talent or innovation, these legends have etched their names in history. One of them was high jump veteran, Dick Fosbury, who invented the 'Fosbury Flop'. However, tragically, Fosbury recently passed away.
Various Olympians and track and field enthusiasts came together to bid the innovator one last farewell. Videos of Fosbury performing the jump he invented also spread like wildfire. Let's take a look at what some of the grieving fans had to say about the tragedy while remembering the legend.
Dick Fosbury: Jumping high toward a new revolution
ADVERTISEMENT
Article continues below this ad
Track and field events have had some unsung heroes across its history, and Fosbury was one of the legends. In the 1968 Summer Olympics, Fosbury's unique style of flopping over brought the 'Fosbury Flop' to attention. However, with the demise of the star, the world not only lost out on a genius innovator but also an athlete that inspired generations to come. And fans grieved this loss among the high jumpers.
 

View this post on Instagram

 
Fosbury's contributions toward the track and field community were highlighted upon his demise. In fact, very few athletes across various sports in the world could claim to have changed the way their sport functioned. Fosbury, with his unique jump and flop, revolutionized the sport of high jump, and fans had a lot to say about that.
For the first 72 years at the Olympic Games, athletes jumped forwards in the high jump 🏃

Then, at Mexico 1968, Dick Fosbury came along with his "Fosbury flop" and changed the sport forever 🙌pic.twitter.com/AZOwrV6scA

— AW (@AthleticsWeekly) March 13, 2023
Some fans reiterated how Fosbury was one of the handfuls who changed the face of his sport. Meanwhile, sports consultant Pierce O' Callaghan, who worked with the legend, on a Citus Mag post wrote, "sorry to hear of the sudden passing".
Very sorry to hear of the sudden passing of athletics icon Dick Fosbury – a living legend who revolutionised high jumping for ever in 1968 and a man I worked for and became friendly with over the past 15 years .. RIP #FosburyFlop https://t.co/TWgVWuEuog

— Pierce O'Callaghan (@Pierceathletics) March 13, 2023
Very few people turn an event on its head in such a manner, Dick Fosbury changed it all. RIP

— Simon Hemmings (@SimonHemmingshj) March 13, 2023
The greatest thing you can say about the man is, if you don't know him, but you watch this sport, you DO.
The mark of a man is in part by what he leaves behind. ForEVER this sport will be celebrating him with a move he created, named after him. Now that's legacy

RIP Dick Fosbury https://t.co/tndRVTH9h9

— ⚫ Why Always You ⚪ (@pls_do_better) March 14, 2023
Meanwhile, others shared personal anecdotes of how high jumping as an event and Fosbury as a legend changed their lives.
When I was a pup, we kids would go to track meets at Oregon State and sit cross-legged quite close to the jump and watch him fly though the air. Terrific memory. What a loss.

— L. Ann (@mytiaraslipped) March 14, 2023
Apart from fans, many track and field stars also took to Twitter to express their sadness and grief upon the veteran's demise. Champions like Michael Johnson, British runner Adam Gemili, and Trinidadian Ato Boldon, sent their condolences.
The world legend is probably used too often. Dick Fosbury was a true LEGEND! He changed an entire event forever with a technique that looked crazy at the time but the result made it the standard. https://t.co/4qx0WQ08pu

— Michael Johnson (@MJGold) March 13, 2023
R.I.P. 1968 Olympic gold medalist and high jump legend/pioneer Dick Fosbury, who passed away on Sunday. Condolences to his family and friends. Godspeed, Fos, from an eternally grateful sport. pic.twitter.com/BzV9XsGHff

— Ato Boldon (@AtoBoldon) March 13, 2023
ADVERTISEMENT
Article continues below this ad
R.I.P Dick Fosbury. Athletics has lost a true legend. An absolute gentleman who gave me nothing but time when I met him in my younger years. You will be missed by so many. My condolences to his family and those who knew him personally. Gone but never forgotten 🕊️ https://t.co/BLJPOF6nX3 pic.twitter.com/iWORTY6zYy

— Adam Gemili (@Adam_Gemili) March 13, 2023
ADVERTISEMENT
Article continues below this ad
Revolutionizing a sport is a feat saved only for a few. Dick Fosbury managed to hold up a new perspective on the high jump. Today, track and field enthusiasts, especially the ones who love the high jump as a sport, are grateful for Fosbury and his contributions. Although his demise has grappled fans with grief, Fosbury's legacy will live on in the form of his innovation.
Watch This Story: 10 Game-Changing Moments at the Olympics
Edited By: Simar Singh Wadhwa