NBA Legend Dennis Rodman's Daughter Trinity Rodman Surpassed Soccer Queens Megan Rapinoe and Alex Morgan to Become Highest Paid Player in NWSL History in 2022
Published 08/27/2022, 11:30 AM EDT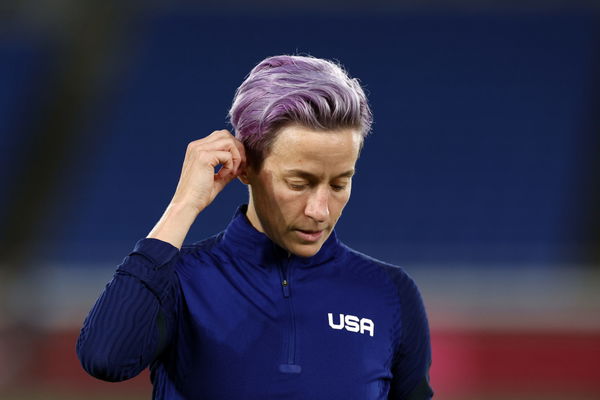 Over the years, Megan Rapinoe has been important to the US Women's National Soccer Team's success. The astounding player led the group to triumph in back-to-back World Cups and the 2012 London Olympics. She has demonstrated her leadership skills with talent, and due to this, she was the highest-paid soccer player on the soccer team.
However, Trinity Rodman, the daughter of NBA legend Dennis Rodman, known to be one of the greatest rebounders of all time, left her behind. She topped the list of the highest-paid athletes in the National Women's Soccer League.

Previously, Megan and her teammate Alex Morgan were the highest-paid players in the league.
ADVERTISEMENT
Article continues below this ad
Trinity Rodman left Megan Rapinoe and Alex Morgan behind
According to the reports of ESPN, Trinity Rodman, daughter of NBA legend Dennis Rodman has become the highest-paid player in history. In February, Trinity signed a deal worth $1.1 million. Meanwhile, the terms and conditions of the contract were not revealed. Her agency, named 'Octagon Soccer,' shared a post regarding this.
At the age of nineteen, she has a record of annual earning of around $281,000. On the other hand, Megan and Alex have $250,000 as their annual income. The head coach of Trinity's team Washington Spirit, Kris Ward, once addressed, "We're incredibly excited to have Trin as a part of the Spirit family for at least the next three seasons. She has a truly special career ahead of her and makes us a better club on all fronts."
Since joining USWNT, Trinity has been shining like a star. However, Alex and Megan have earned considerable bank balances throughout their careers.
Rapinoe and Morgan's net worth
ADVERTISEMENT
Article continues below this ad
Megan Rapinoe and Alex Morgan, the two superstars of the USWNT, have achieved remarkable success. Additionally, Alex and Megan have a reputation for speaking out on various social problems. They sued the federation, for instance, since the women's squad wasn't paid the same amount as the men's team. Their efforts did the entire game of soccer justice.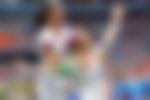 In addition to the 2019's FIFA world cup victory, Megan won six golden boots. After the match, she received a reward of $4 million. After playing in various matches, the superstar earned $400,000 in 2019. Similarly, Alex earned the same amount that year.
ADVERTISEMENT
Article continues below this ad
On the other hand, Megan has huge endorsement deals like Nike, BodyArmor, Hulu, Victoria's Secret, and Visa in her bag. On the other hand, Alex has brands like AT&T, Volkswagen, Coca-Cola, and Nike. Rapinoe's total net worth is around $5 million, whereas Alex's net worth is estimated to be $3 million.
WATCH THE STORY: Suni Lee, Mikaela Shiffrin, Lindsey Vonn, Chloe Kim, Megan Rapinoe, Allyson Felix, And Other Olympians Appears At ESPY's 2022 
Edited By: Rupak Kumar Jha