"She Got Close": US Olympic Legend Claims Elaine Thompson Herah Will Now Struggle to Catch FloJo
Published 11/06/2021, 1:11 PM EDT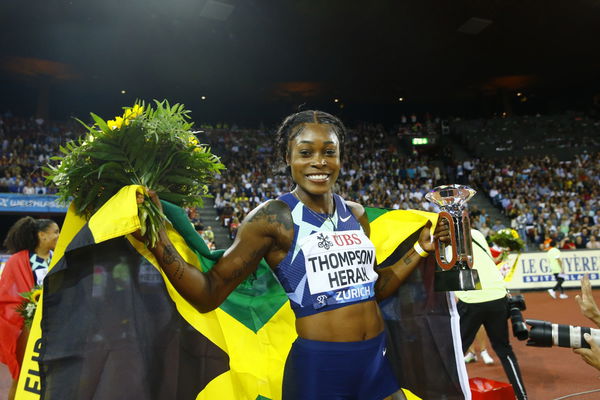 ---
---
Jamaican sprinter Elaine Thompson-Herah is well-known as an athlete who competes in the 100 meters and 200 meters. Being one of the greatest female sprinters of all time, she is blazing fast in the field. Notably, she is the fastest woman alive with five Olympic gold medals to her name.
ADVERTISEMENT
Article continues below this ad
Elaine is the first female sprinter in history and second sprinter overall after legend Usain Bolt to win the 'sprint double' at consecutive Olympics. She bagged gold in the 100 meters as well as 200 meters at the 2016 and 2020 Olympics.
ADVERTISEMENT
Article continues below this ad
The four-time Olympic champion, Michael Johnson, recently spoke about Elaine's amazing performance at the 2020 Tokyo Olympics. Being experienced in the field, he is aware of how difficult it is to create history. He revealed that this was a good chance for Thompson to break Florence Joyner's world record; The road ahead will be tough.
Will Elaine break Flo-Jo's world record in 2022?
Elaine's performance at the Olympics this year was outstanding. She shined throughout the games, recording a time of 10.61 seconds in the 100 meters final. Herah also established a new personal best of 21.53 seconds in the 200 meters. Thereafter, she again won the gold medal at the Prefontaine Classic.
Despite her victory, she couldn't break Florence Griffith Joyner's 100m world record of 10.49 seconds. Michael Johnson, being an expert in this field, spoke about the uncertainty while creating history. According to him, there is a 50-50 chance of her breaking Flo-Jo's world record in 2022.
"Part of me says yes because she got close to it this year and was still consistent, but sometimes you've got to do it in the year when you're there," said Johnson, the 8-time world champion.
Johnson further confessed the difficulties and hurdles he overcame to break Butch Reynolds' then 400 meters world record of 43.29 seconds. Sometimes, it must be done all at once since making records is uncertain and the second time, one might not make it due to several reasons.
Elaine Thompson-Herah and Karsten Warholm get Michael Johnson's vote for athletes of the year.

Four-time Olympic champion gives his verdict on an incredible 2021 season.https://t.co/LD6OLfRXH2

— AW (@AthleticsWeekly) November 5, 2021
"1995 was my year for the 400m. I ran 43.39, 43.41, I was all around that 43.29 and it took me another four years to get back to that point, so if you don't do it in that year," he added.
The fact that Thompson has recently changed coaches might also have an effect on her performance.
"And she's just changed coaches, so who knows what effect that's going to have."
Elaine's hard work has brought her to where she is now, inches close to breaking the world record. It will be interesting to see if she comes close to beating Flo Jo's record at the forthcoming World Athletics Championships.
Thomspon Herah makes it to Johnson's list of favorite athletes
The four-time Olympic champion, Michael Johnson, recently revealed his list of favorite athletes of the year for 2021. Moreover, Elaine Thompson-Herah successfully made it to Johnson's list.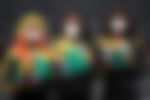 "On the women's side for me, it's Elaine Thompson-Herah. I think what she did this year was just unbelievable. It's her, hands down," said Johnson, the former 200m and 400m world record holder.
ADVERTISEMENT
Article continues below this ad
"The competition in the 100m and 200m this year was definitely at a high level. She responded to the competition, won the medals, but also the times she was running to start to threaten Florence Griffith Joyner's record, which has stood for so long and has such strong arguments around it, tells your everything about how impressive she was this year," he added.
Johnson is rooting for Thompson Herah to break the record and beat Flo Jo. Undoubtedly, Herah will have a chance to do it during the World Athletics Championships next year, which will be held in the US.
ADVERTISEMENT
Article continues below this ad