Snowboarding Queen Chloe Kim Makes Debut at Met Gala 2022 With Her Iconic 'Sl*t Strands' Look
Published 05/03/2022, 8:01 AM EDT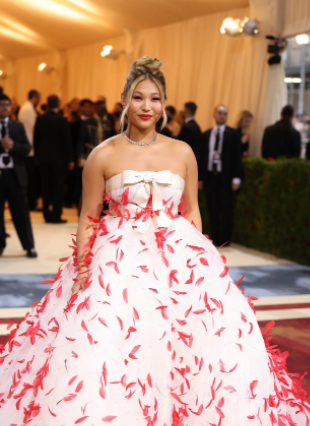 The Met Gala 2022 was a royal affair, as it witnessed the presence of some of the top celebrities in the world. Not everyone gets an invitation to the Met Gala, so when someone does, they make sure to arrive in style. 2-time Gold Medalist Chloe Kim was also seen at the 2022 Met Gala, decked in a beautiful white gown.
ADVERTISEMENT
Article continues below this ad
The 2022 Met Gala took place on May 2 at the Metropolitan Museum of Art in New York. Notably, the guest list of the Met Gala is a well-guarded secret, and only a selected few international celebrities get the chance to grace the carpet.
ADVERTISEMENT
Article continues below this ad
Chloe Kim makes her debut at the Met Gala
Each year at the Met Gala, we see celebrities who have been coming to the event for many years, and there are others who come for the first time, and for them, it's known as their "Debut Met".
Beijing Winter Olympics gold medalist was also one of the lucky ones to get invited to this year's met. The "snow queen" wore an outfit that depicted her connection with the ice. Kim wore a beautiful white tulle ballgown embedded with red feathers.
For her hair, she did a high bun, however, leaving her signature two strands of hair by the sides of her face. Notably, the strands are famous among female snowboarders and are known as "s*** strands". However, Kim is not a fan of the name and has earlier revealed that she would like it changed to "beauty strands".
"This dress is by the one and only Giambattista Valli…so beautiful, I am so in love with it, I am just so happy I got to wear this," revealed Kim.
She was delighted to wear the beautiful dress by the famous Italian designer. Kim revealed how her stylist came to her with two huge bags, and the whole experience was super exciting for the 22-year-old.
The Met Gala 2022
Power couple Blake Lively and Ryan Reynolds were the hosts for the biggest fashion night of the year. Actress Regina King and actor-singer director Lin-Manuel Miranda also joined the couple.
ADVERTISEMENT
Article continues below this ad
The theme of the Met Gala 2022 was 'In America: An Anthology of Fashion'. The idea was to honor the upcoming American exhibition at the Museum. However, the dress code was "Gilded Glamour"
ADVERTISEMENT
Article continues below this ad
The event is a celebration of fashion, and therefore every year, the outfits at the Met Gala are the most awaited. Hence, the guests choose only the best designers in the world for their outfits.
Watch This Story: Here's A Quick Look At Gymnastic GOAT Simone Biles'Heavy Met Gala 2021 Outfit