Strongman Maxime Boudreault Joined LeBron James, Floyd Mayweather, and Cristiano Ronaldo on a Special List
Published 11/27/2022, 2:30 PM EST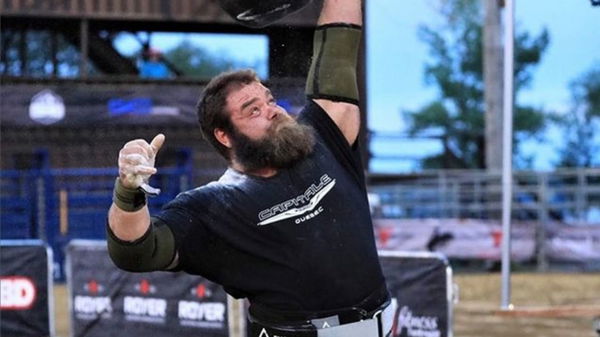 Maxime Boudreault is a professional Canadian strongman athlete. He is one of the top competitors in the sport. Earlier this year, Boudreault finished 5th at the World's Strongest Man competition, held in Sacramento, California.
A few months later, Boudreault added another title to his name. The star strongman won the 2022 Canada's Strongest Man competition. In 2021, Boudreault also won the inaugural season 'Magnús Ver Magnússon Strongman Classic' event in Iceland.
ADVERTISEMENT
Article continues below this ad
However, Boudreault seems to have the capacity to win way more titles than this and aims to achieve those goals in 2023. As a part of the preparation for next season, Boudreault and his strongwoman fiance underwent cryotherapy as a part of their recovery process.
Maxime Boudreault shares details about a unique therapy
Besides being a strongman competitor, Boudreault is also a YouTube content creator. Like many other athletes, Boudreault also shared his life updates and various things on his channel.
As Boudreault and his strongwoman fiance, Sam Belliveau, have started their preparation for the next season of the competitive year, the couple decided to focus on recovery first. in a recent video shared by Boudreault, the pair tried a unique recovery therapy called cryotherapy.
The treatment can give oneself chills, as it involves standing in a chamber at 308 degrees Fahrenheit. Their trainer also mentioned some big names who use cryotherapy as a part of their recovery. "The best of best uses it. LeBron James uses it, Floyd Mayweather, Maxime Boudreault [laughs], Ronaldo best soccer player," said their therapy trainer.
ADVERTISEMENT
Article continues below this ad
Later, when Boudreault entered the chamber, his camera person asked him how did it feel, and the strongman said it was more freezing than an ice bath. "Just cold air hitting you," replied the strongman. Hopefully, this therapy will help Boudreault come back much strong and win many more titles.
What is Cryotherapy?
Cryotherapy is a medical tissue-repairing process that involves the use of some extremely cold liquid for general treatments. Although this unique treatment is used in medical treatments, it has recently evolved as a therapy in the sporting industry.
ADVERTISEMENT
Article continues below this ad
Watch This Story: 4 must-have supplements containing nitric oxide for attaining your intense bodybuilding goals
Cryotherapy is one of the most effective ways in which pain can be easily managed and healed. It can also treat various sports injuries. Due to its effectiveness, many athletes have turned to this special treatment and recovery process.
Edited By: Pritam Priyedarshi