"He Could Have Saved Wilson!"- Caeleb Dressel Trolls Tom Hanks For Not Swimming Faster In 'Castaway'
Published 10/28/2021, 9:15 AM EDT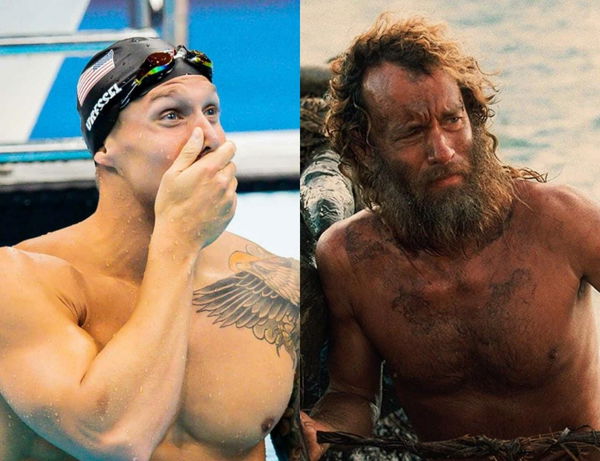 ---
---
The famous Olympic swimmer Caeleb Dressel had a few interesting insights to offer about Tom Hanks, after watching scenes of a movie called "Castaway".
ADVERTISEMENT
Article continues below this ad
Caeleb Dressel has been swimming since he was only 5 years old. At that age, his parents motivated him to go to regular swimming classes. Initially, he did not quite find the sport very captivating and hence did not agree with his parents, a decision that changed later on. He took up swimming seriously and recently won 5 Olympic golds at the Summer Games in Tokyo!
WATCH STORY- Five Times Fans Got Mad at Floyd Mayweather 
ADVERTISEMENT
Article continues below this ad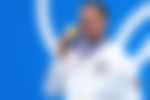 What did Caeleb say about Tom Hanks?
While watching the scenes from Castaway, Caeleb Dressel had a few things to say regarding Tom Hanks.
He said, "I feel like the boat would have moved. Right? That raft, there's no way. It was made out of sticks. It would have moved. Dang, it, like this is mean. I'm going to feel bad after this scene. You're just stranded for so long. But I feel like even if he was stranded he should have been able to pull the raft made out of sticks. Things are much much lighter in the water."
ADVERTISEMENT
Article continues below this ad
"I think the ball was like only 15 feet away. That's going to take like maybe three seconds to go to," Dressel joked. "And then you can just chuck Wilson back to the life draft. And everything will be good. Cause the water is not even that choppy for the middle of the ocean. Like the raft isn't going to go that far. I feel like he could have saved Wilson, to be honest." 
Caeleb Dressel believes Wilson could easily have been saved
Having the right amount of experience and also watching a movie wherein swimming was key, Caeleb commented on Tom Hanks' character. Offering a critical perspective was certainly done well but he jokingly mocked Hanks for not being able to save Wilson. At this point in the movie, he felt that the actor was close by and could have reached out to help Wilson, but did not. There should have been more speed in his movement, according to Caeleb but that was not the case.
ADVERTISEMENT
Article continues below this ad