"He Is Just the Best Person"- Michael Phelps Picks $800 Million Hollywood Fame to Play His Role in Biopic
Published 05/19/2022, 9:30 AM EDT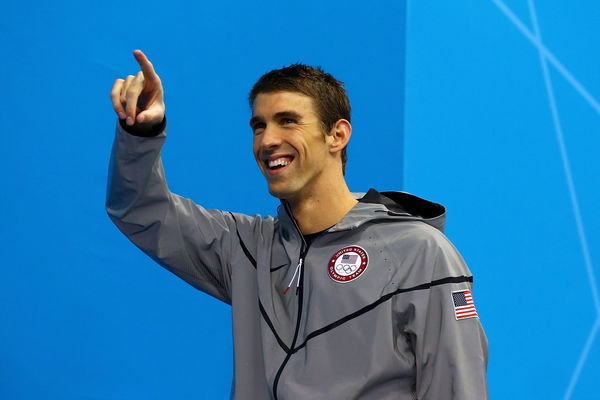 Biopics are a tribute as well as entertaining visual documentation of people who have done something extraordinary in their lives. Being the most decorated swimmer, Michael Phelps surely deserves one. However, that debate is for another day. Right now, the major question is who would play his character in his biopic, and does he have any favorites for the role?
Michael Phelps' accomplishments and grandeur in the world of swimming are almost no match for anyone. He is probably a once-in-a-century kind of athlete and will always be remembered, as the man who conquered the sport of swimming. If someday someone might plan a biopic on him, it'll simply be like a guidebook for being a legend.
ADVERTISEMENT
Article continues below this ad
Michael Phelps has a favorite for his biopic role
Well, a lot of famous actors come to mind when you imagine the casting for Michael Phelps biopic. Though Phelps has already made his mind about who that actor should be. When asked whether the swimming legend has given the biopic a thought, his first reaction was, "NO."
However, he pointed out that people often ask him that if his biopic is made, then whom would he pick for it. To that, he said, "I always feel like it has to be The Rock, just because his personality I feel like is great. He is just the best person."
He certainly has revealed his favorite actor for the role, though, on a serious note about the whole biopic matter, he said, "I have no idea. I think you stumped me."
ADVERTISEMENT
Article continues below this ad
Phelps recalls the special moments of his career
It's been six years since he announced his retirement from professional swimming. As he recalled the moments of his glorious journey, he was proud and content with what he has accomplished. The Olympic champion said, "It was a fun 20 years, it was crazy. Everything started with a dream of being an Olympic champion."
ADVERTISEMENT
Article continues below this ad
Well, initially his dream might have been winning an Olympic gold medal, but he undoubtedly achieved much more than that. Today, he is an icon, an inspiration to follow. Clearly, it would be a visual treat to watch his biopic if it's ever made.
WATCH THIS STORY- 5 Quotes From Michael Phelps That Can Change Your Life
Edited By: Simar Singh Wadhwa