Katie Ledecky Isn't the Only 'Katie' Turning Heads at FINA Swimming World Championships 2022 for Team USA.
Published 06/22/2022, 1:41 AM EDT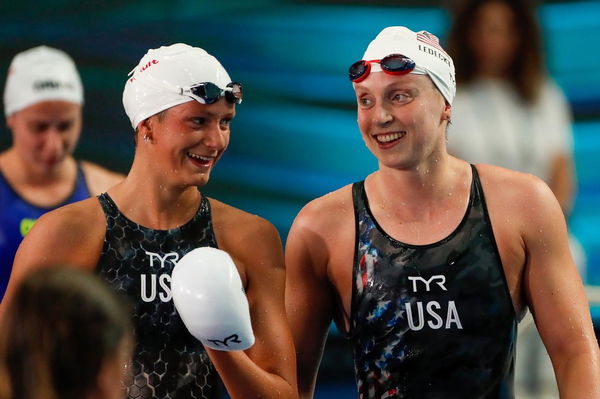 Katie Ledecky has been dominating her events at meets for over a decade. And since she had not expressed any intention of retiring from the sport, in fact, she has more medals coming her way.
ADVERTISEMENT
Article continues below this ad
However, another Katie, quickly asserting her dominance in the sport, is on the block. And what's more, is that two swimmers hail from the same nation.
ADVERTISEMENT
Article continues below this ad
Katie Ledecky secures gold while Katie Grimes bags silver in the 1500m free
The swimmer in question is 16-year-old Katie Grimes. And although the young swimmer did not secure a medal in her Olympic debut, she has been performing consistently well at the meets following the Tokyo Olympics.
At the ongoing FINA World Championships Budapest 2022, she clinched the silver in the 1500m freestyle event, trailing just behind Ledecky. Since the two swimmers are compatriots, both medals will go to the medal tally of the United States.
Ledecky completed the event in an astounding 15:30.15, making it her 17th world championship gold medal. Moreover, the victory marked her 20th world championship medal, equaling her Worlds medal count with Natalie Coughlin.
Grimes came second at the event, clocking a time of 15:44.89. However, this time put her almost 15 seconds behind the G.O.A.T. But it did not stop the crowd and viewers from celebrating both victories.
Australian swimmer Lani Pallister secured the third position in the 1500m free with a time of 15:48.96. It put Pallister more than 4 seconds behind Grimes, which is more than a few body lengths.
How does Ledecky's time in the event compare against her previous times?
During the event, Ledecky took the lead right from the start. And by the time she completed 500m, her opponents were left far behind. But she would manage to add even more gap by the end of the event. And by the time she completed the event, not one competitor was within the 15m range.
ADVERTISEMENT
Article continues below this ad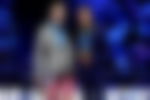 For some time, the 10-time Olympic medalist kept pace with her current world record of 15:20.48. However, the 25-year-old swimmer could not keep up with her world record pace and soon fell behind from the spot.
ADVERTISEMENT
Article continues below this ad
However, she completed the event within 10 seconds of her world record finish. It put her latest time among the 13 fastest in the event's history. Moreover, her time was 8.73 seconds ahead of the next closest swimmer to compete in the history of the event.
It seems like both Katie's will bring more glory to American swimming in the coming days.