"America Isn't the World"- Twitter Fans Left Furious as Usain Bolt Gets Snubbed From His 'World's Fastest Man' Title Against Fred Kerley
Published 06/30/2022, 8:00 AM EDT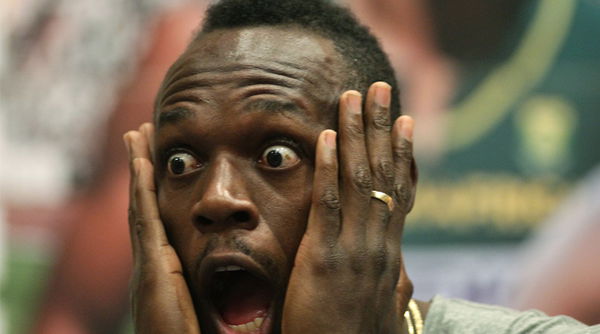 Most people are aware of the world record achieved by Usain Bolt at the Berlin IAAF World Championships. But it has since become a legend from days of yore. The sprinter has retired from the sport to focus on other passions.
Following his retirement, numerous young and talented athletes have emerged to make a run for the title that Bolt has retained since 2008.
ADVERTISEMENT
Article continues below this ad
Fred Kerley hailed as the "fastest man" over Usain Bolt
Numerous sprinters have attempted to take on the Lightning Bolt's world record, but none have succeeded yet. But recently, former NFL linebacker and analyst for Fox Sports 1, Emmanuel Acho, tweeted something that has left netizens divided.
This tweet hailed Fred Kerley as "the fastest man in the world," leaving many people confused. Moreover, it has triggered a frenzy of comments on the tweet. Although the tweet has attracted some positive reactions, most users are fuming over this flagrant exaggeration.
The caption read, "The fastest man in the world, Fred Kerley, just ran 9.76 in the mens 100m. That is a world leading time and the 5th fastest time in American history."
https://twitter.com/EmmanuelAcho/status/1540498852028882944?s=20&t=28k4L_D_REDfEvp-OKCSyA
Acho posted the tweet in light of Kerley's performance in the semi-final and final 100m event at the recent USATF Outdoor Championships. The American sprinter clocked a time of 9.76s in the semis while proceeding to clinch gold in the final with 9.77s.
When the result of the semi-finals was declared, the athlete achieved the sixth-fastest time in the 100m event. It helped him level the field with Christian Coleman and Trayvon Bromell, who clocked the time at previous meets.
The Twitter battle that ensued following the tweet
Netizens were not satisfied with the grandiose overstatement of his achievement. Moreover, it garnered some hilarious retweets. One user said, "Somebody broke Usain's record? Cause thats the only way that title goes…"
Another tweeted, "America isn't the world."
Tagging Bolt, a Twitter user said, "@usainbolt nuh exist anymore? A better you shut up ya Sir."
ADVERTISEMENT
Article continues below this ad
The reactions reached the point where Acho had to provide a clarification for the tweet. It read, "Y'all calm down, Usain Bolt is the fastest man ever, but he's *not* actively running. Usain couldn't run a 9.76 right now, thus he's not the fastest man in the world."
Kerley expressed his desire to outperform the sprinting legend on several occasions. He, most famously, indicated this at the Tokyo Olympics. But the sprinter also considers Bolt his idol.
ADVERTISEMENT
Article continues below this ad
And with his best time of 9.76s, the athlete has a long way to go before he can outdo Bolt's long-standing 9.58s world record.
Edited By: Simar Singh Wadhwa