Did Andre DeGrasse Ever Beat Usain Bolt's Time?
Published 05/01/2022, 10:30 AM EDT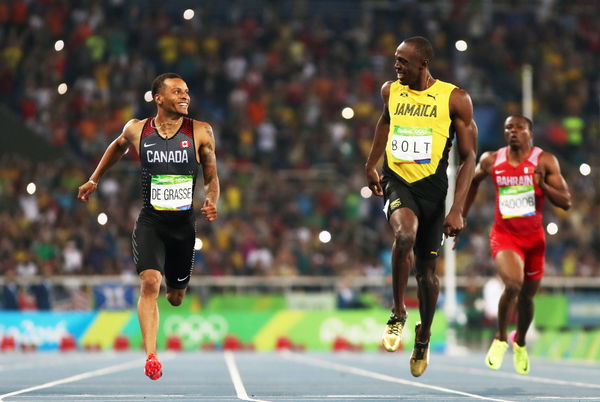 The world of athletics is constantly seeing upheaval. Records are meant to be broken and more often than not, they are. And when Usain Bolt is a part of your sport, his records are going to stand for a while. Andre De Grasse, however, thought otherwise. When competing in the 200-meter dash at the Tokyo Olympics, Andre De Grasse did what he does best. He ran as fast as he could.
ADVERTISEMENT
Article continues below this ad
And with his focus unshakeable, a happy byproduct of his gold medal finish was that he also managed to cover the distance faster than Usain Bolt. A man many consider to be speed incarnate. Here's a look back at the historic day when De Grasse stepped up to beat Bolt's time at the Olympics.
ADVERTISEMENT
Article continues below this ad
Andre De Grasse on August 4th, 2021, for the 200-meters dash. In an event delayed considerably by a global pandemic, the expectations were at a fever pitch. But once he started running, it was almost as if you couldn't even tell.
De Grasse ran a personal best to record a finish on the top step of the podium. The athlete wrote himself into the history books with his record run in Tokyo. His transcendent run even bested Usain Bolt's time set in the previous Olympics.
Andre De Grasse runs a personal best to beat Usain Bolt's time
Andre De Grasse ran a professional best to take home the Olympic crown and the record from Usain Bolt. Completing the 200 meters in 19.62 seconds, the Canadian sprinter dominated on the day; and the record books stood up to take notice.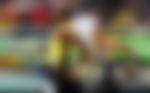 The Olympics have long been Usain Bolt's feeding ground with several medals and multiple events being virtually dominated by the Jamaican sprinter. But dominance does not last forever. Despite maintaining a virtual chokehold on the men's sprinting events starting from the mid-2000s, Usain Bolt's record could well be a thing of the past.
Keeping his best for the Rio Olympics in 2016, Bolt had recorded a time of 19.78 at the event to hold the record. De Grasse, however, beat that time by a considerable margin almost by more than a tenth to snatch the record from the Jamaican superstar.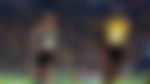 De Grasse's reaction
All in all De Grasse had had a successful Tokyo Olympics until that point. But this was his crowning glory. He had already locked up the Bronze in the Men's 100-metre final. The win also marked the first time that a Canadian athlete had notched a win in the event in close to a century, with the last win coming at the hands of Percy Williams in 1928.
ADVERTISEMENT
Article continues below this ad
Records are meant to be broken in Athletics and De Grasse knows that. Any athlete, when they break a record, knows that the numbers will soon only set a benchmark for someone to come along and surpass them, but the medal always remains. An Olympic gold will never lose its sheen for the Canadian sprinter, and he was aware of the effect this would have on it.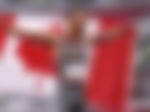 Draped in the Canadian flag and with the medal around his neck, De Grasse was spotted talking to his family on a video call in near disbelief. "I can't believe it. Oh my god, I did it," he said.
ADVERTISEMENT
Article continues below this ad
Watch This Story: Here's A Quick Look At Simone Biles' Best Gymnastics Moments 
But what do you think? Is this record insurmountable? Or do you think inevitably, it will be broken sooner or later? And while due credit must be given to De Grasse who do you think is the greatest sprinter of all time?