During Tokyo Olympics Young US Sensation Erriyon Knighton Bursted Into Tears Despite Historical Performance
Published 05/09/2022, 11:12 AM EDT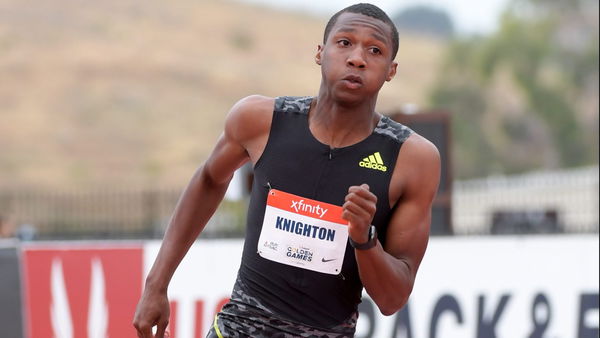 Last week at the LSU Invitational, a young sprinter shined through and through. 18-year-old Erriyon Knighton ran an astounding 19.49 seconds at the 200m event. This puts him on the list of the Top 5 fastest 200m. However, more than the speed, what was shocking was his age. At 18 years old, Knighton is already out to put the world records to shame.
ADVERTISEMENT
Article continues below this ad
The LSU invitational was the second time that Knighton attempted the 200m. His first big attempt was at none other than the big games, i.e. Tokyo Summer Olympics 2020. Here, Knighton came 4th after clocking a time of 19.93 seconds. Even though this was not enough to get him on the podium, it taught him a lesson for life.
ADVERTISEMENT
Article continues below this ad
Knighton faces a setback at the Tokyo Olympics 2020
Erriyon Knighton was just 17 years old when he ran the 200m at the Olympics. Notably, this was the youngest athlete to take part in an individual Olympic track final in 125 years. Naturally, his performance was much awaited by athletics fans.
WATCH: 18-Year-Old Erriyon Knighton Threatens Usain Bolt's Long-Standing World Record with Impressive 200m Record
The young sprinter put on an impressive show but was not able to make it to the podium. While Andre de Grasse won the race, followed by Kenny Bednarek and Noah Lyles, Knighton came 4th. He was heartbroken and felt devastated. At the same time, it was a moment to remember because the 17-year-old had just kicked off his career.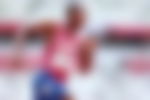 "I was kind of sad, but I couldn't really be bothered about it," he said. "I was just getting started on my career,".
It's true that he missed the podium by seconds. But the fact that he was running in the finals at such a young age was commendable in itself. He did not just take part in the event, but also came 4th, only mere seconds behind some legendary athletes who are in the prime of their careers.
Coach Mike Holloway Motivated Erriyon Knighton after Olympic setback
ADVERTISEMENT
Article continues below this ad
During this time, it was Erriyon's coach Mike Holloway who came to his rescue. Holloway was not allowed on the track because of the covid restrictions, but he was on call with Knighton and had some empowering words of advice for the young athlete.
"I was just like, 'Look, man, remember how you feel. And remember, you don't want to ever feel this way again," revealed Holloway.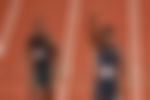 Notably, Holloway is a co-coach with Jonathan Terry for Erriyon. Holloways' words helped Knighton get back up and motivated him to work harder for the next event.
Watch This Story: Simone Biles, Michael Phelps, Usain Bolt, Shaun White And Others Wish Their Mothers On The Special Day

ADVERTISEMENT
Article continues below this ad
He knew he didn't want to miss that position on the podium ever again.