Elaine Thompson-Herah and Shelly-Ann Fraser-Pryce Can Still Break Flo-Jo's Record at World Athletics Championships 2022- Here's How
Published 07/20/2022, 8:00 AM EDT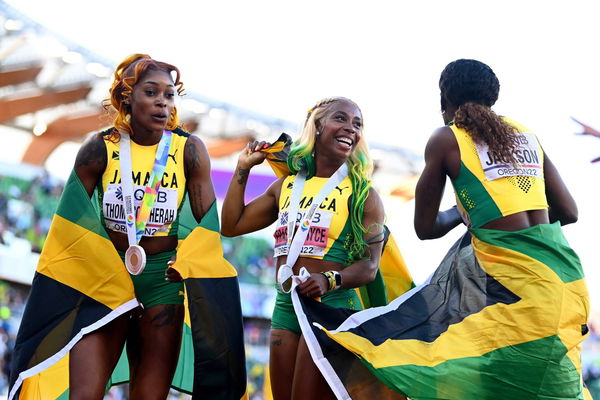 In recent years, Elaine Thompson-Herah and Shelly-Ann Fraser-Pryce have become two of the most dominant sprinters in the 100m and 200m events. And among present-day sprinters, they have the fastest times in the 100m event. With that said, they have still behind a three-decade-old world record.
ADVERTISEMENT
Article continues below this ad
At the U.S. Olympic Trials in 1988, Florence Griffith-Joyner clocked the long-standing record time in the event. During the meet, Flo-Jo clocked an astounding 10.49s to become the fastest woman of all time.
ADVERTISEMENT
Article continues below this ad
A second attempt for Elaine Thompson-Herah and Shelly-Ann Fraser-Pryce
At the World Athletics Championships, people hoped to see any one of the Jamaican sprinters break the age-old world record. But that was not to be in the 100m event. Although both the athletes performed brilliantly in the event, they failed to clock anywhere near Flo-Jo's Time.
In the event, Fraser-Pryce clocked 10.67s to clinch the gold, thereby making a new Championship record. And Thompson-Herah secured the bronze with a time of 10.81s. Currently, Elaine holds the title of the fastest woman alive, but this year her compatriot outperformed her in the field to secure victory in the event.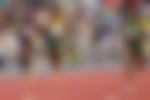 However, all hope is not lost for the athletes as they still have the 200m events, the final of which is scheduled on July 21. Both Thompson-Herah and Fraser-Pryce have clocked impressive timing in previous events. Elaine's PB in the 200m falls short of Griffith-Joyner's world record time of 21.34s by just 0:19s.
While Fraser-Pryce's best time is not as impressive as her compatriot's, she has clocked some decent times in the event. Her personal best to date is 21.79s. Therefore, they still have a chance to outdo Flo-Jo's time, albeit in a different event.
Another mighty competitor for the 200m event
ADVERTISEMENT
Article continues below this ad
Like most previous meets, the Jamaican team has dominated the events at the World Athletics Championships 2022 in Eugene, Oregon. In the 100m events, the team managed a podium sweep, with Fraser-Pryce, Shericka Jackson, and Thompson-Herah securing the gold, silver, and bronze, respectively.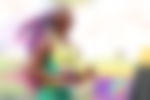 Much like her compatriots, Jackson also remains an athlete to watch for in the upcoming 200m event. Jackson remains a strong contender in the event, and her prowess in the event is no laughing matter.
ADVERTISEMENT
Article continues below this ad
WATCH THIS STORY- Usain Bolt, Elaine Thompson-Herah, and More- Top Athletes to Sign for Puma
With a personal best of 21.55s, it puts her in the third best time in the sport's history, just behind Thompson-Herah and Flo-Jo.