Fastest Man Alive Usain Bolt Has Found an Interesting Way to Keep His Competitive Nature Alive
Published 06/19/2022, 11:15 AM EDT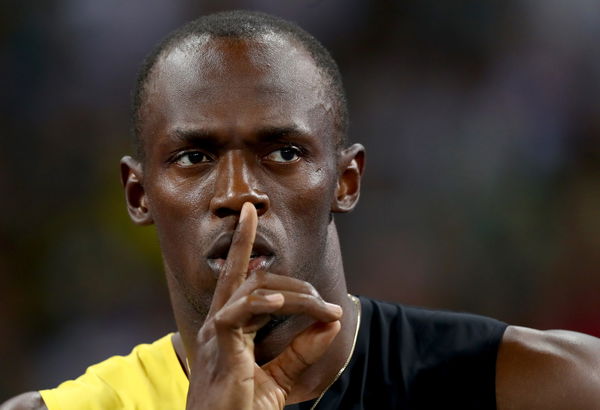 When you have been the undisputed dominant force in a sport for most of your career, it's hard to live a normal life. Usain Bolt, who still holds the title of Fastest Man Alive, hasn't let his competitive spirit leave him.
Bolt retired a good five years ago in 2017. So, how is he keeping his urge to be the best sated? The answer is, surprisingly, dominoes. That's right. The world's fastest man gets a rush from playing the 'old man's' game.
ADVERTISEMENT
Article continues below this ad
Usain Bolt on replacing sprinting with dominoes
In an interview with the Daily Star Sunday, Usain Bolt relayed his struggles with filling his time since retirement. And his solution: dominoes. "I still really miss the adrenaline from competing. I love to win and I miss winning, but now I win at dominoes instead."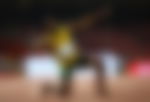 Competitive even at a game played in his living room, Bolt gets to take his mind off his retirement and bond with his friends through dominoes. "All my spare time now is spent with the kids or playing dominoes with friends. That's the way I like to relax, but also compete. I still want to win."
But his free time doesn't make him want to put on his running shoes again. After all, he never would have found time for his family if he were flying around the world to extend his legacy. The sprinting G.O.A.T. continued, "The kids take up most of my time now. It is nice to be there for them, which I wouldn't have been able to do if I was running."
Bolt's legacy in the sprinting world
There's not a shadow of a doubt that Usain Bolt was a superstar. His popularity became bigger than the sport itself, and for good reason. With countless world records and a medal tally to die for, the Jamaican sprinter dominated the track single-handedly.
ADVERTISEMENT
Article continues below this ad
Bolt won gold in the 100m and 200m in three consecutive Olympics – Beijing 2008, London 2012, and Rio 2016. A triple-triple or three peat no other sprinter in history has ever achieved. His records at the 100m and 200m sprints still stand at an astonishing 9.58 seconds and a legendary 19.19 seconds, respectively.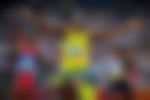 Michael Johnson, a four-time gold medalist, once said about Bolt, "None of us has produced, in my opinion, the consistency and longevity that Bolt has. So to this point, he has to be considered the greatest."
ADVERTISEMENT
Article continues below this ad
It's not surprising that the athlete finds it tough to just go about his day like he didn't rewrite the history of the track and field sport. If dominoes help, they help!
Edited By: Manaal Siddiqui