"Wins It by a Mile"- Fans Applaud New World Leader Shelly-Ann Fraser Pryce as She Produces Blistering Performance at Continental Gold Tour in Kenya
Published 05/07/2022, 10:46 AM EDT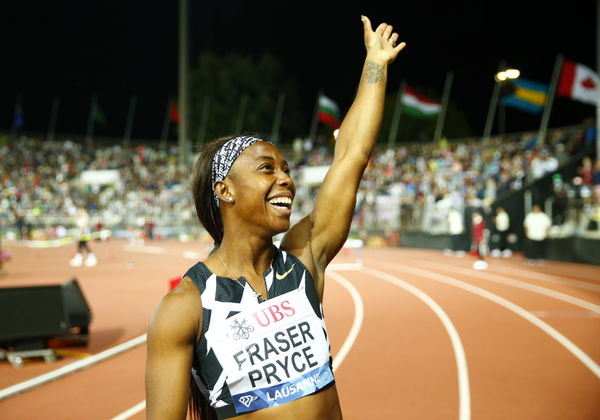 Shelly-Ann Fraser Pryce has once again proved that she is an athletic legend. She was one of the most awaited female athlete at the Kip Keino Classic on Saturday, and she didnt disappoint her fans. The 35-year-old has an effortless win in the 100m race, marking her place among the world's fastest athletes.
ADVERTISEMENT
Article continues below this ad
Fraser Pryce is notably the 3rd fastest woman in the world, with her personal best timing of 10.60 seconds. At the Kip Keino Classic on Saturday, Pryce was quick to leave behind her competitors and flew ahead to win the race. Fans are applauding Shelly-Ann for her consistency and speed. The 3-time Olympic Gold medalist has kicked off yet another season with a win. It will be interesting to see what lies ahead for her.
ADVERTISEMENT
Article continues below this ad
Fans heap praise for Shelly-Ann Fraser Pryce who clocks yet another milestone
Fondly known as "Pocket Rocket", the 35-year-old is not just an athlete but also a mother. After giving birth to her son, Fraser Pryce didn't back down and came back with the strength of a mother. Notably, Egypt's Bassant Hemida came second with 11.02, a full 0.35 seconds behind.
WATCH: Shelly-Ann Fraser-Pryce Dominates With 10.64 Seconds at Kip Keino Classic
Fraser Pryce clocked a timing of 10.67 at the Kip Keino Classic 100m. This will fall among one of her significantly good performances. Notably, this is also the fastest time in 2022. However, the season has just started and she has already clocked an impressive timing.
Shelly Ann Fraser Pryce wins it by a mile

— Dennis Ethan (@dens_Ethan) May 7, 2022
They said Shelly Ann Fraser Pryce would never dip under 10.7 again and she did it in a -0.4 headwind? Its over for these girls this season.

— Alexa Perreira (@alexa_perreira) May 7, 2022
"10.67?!?! Let the race to the world record begin!!! You get it Shelly-Ann Fraser Pryce," posted a fan. 
The Kip Keino Classic is one of the important events, which will ultimately lead up to the 2022 World Athletics Championships in June. Keeping this in mind, Pryce has already set the standard for the season.
Shelly Ann Fraser-Pryce what a way to open up your 100m season. The Jamaican superstar clocked 10.67s at the Kip Keino Classic in Nairobi, she is now the world leader. Over to your Elaine Thompson-Herah. pic.twitter.com/DMG1EiP4BC

— Anmar Goodridge-Boyce (@anmargboyce) May 7, 2022
"Shelly-Ann Fraser Pryce is my favorite track athlete. Proving age is nothing."
Olympic legend Shelly Ann Fraser-Pryce ran a spectacular 10.67 in her first 100m for the season at the KIP KIENO CLASSIC in Kenya. ! FIRE!

— Earl H Bailey (@BaldEagleJa) May 7, 2022
Laying down the gauntlet! Shelly ann Fraser Pryce opens 100m slate with blistering 10.67 second win in Nairobi.

— Daniel Wheeler (@DanielJWheeler2) May 7, 2022
There is no doubt that Shelly-Ann is a track and field icon. As the season proceeds, fans will wait with bated breath to watch the "Pocket Rocket" in action.
Pryce unbothered by Sha'Carri's absence
Meanwhile, American athletic sensation Sha'Carri Richardson dropped out of the Kip Keino Classic at the very last moment. Sha'Carri and Pryce's rivalry is very well known, and fans were disappointed that they wouldn't get to watch these two go head to head. However, Fraser Pryce was not at all bothered by Richardson's absence.
ADVERTISEMENT
Article continues below this ad
"As far as I am concerned, there are 7 other competitors in the race that I think deserve the same amount of attention and respect as me," said Pryce.
ADVERTISEMENT
Article continues below this ad
Pryce was super excited to go into the race and intended on giving her very best. This is a great beginning for Shelly-Ann Fraser Pryce this season, and it's safe to say that the other athletes will have to up their game to keep up with her.
Watch This Story: When Usain Bolt Got Pissed At A Reporter For Saying Justin Gaitlin's Mistake Helped Him Win