"Me Soon"- US Track Star Fred Kerley Declares Aim to Reach LeBron James, Lionel Messi, Roger Federer, and Other Legends on Highest-Paid Athletes List
Published 05/12/2022, 9:15 AM EDT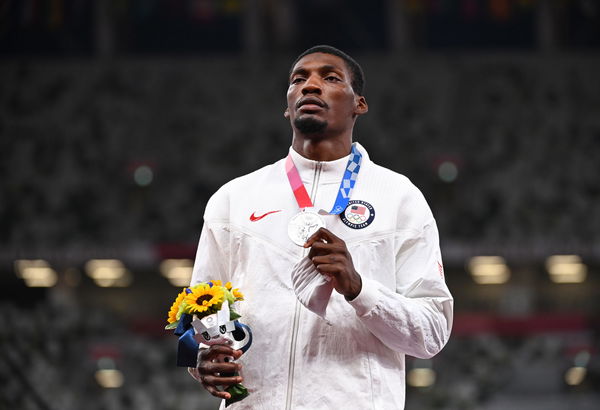 Fred Kerley is a rising American track and field athlete with incredible potential. He has announced before, his intention to surpass Usain Bolt's records and become the fastest man alive in not just the 100m and 200m, but also the 400m. A versatile sprinter, Kerley has set his eyes on yet another goal. That is, to become one of the highest-paid athletes in the world.
ADVERTISEMENT
Article continues below this ad
ADVERTISEMENT
Article continues below this ad
On his Twitter, Kerley quote retweeted a list of highest-paid athletes of 2022 with the words "Me soon". This list contained big names like LeBron James, Lionel Messi, Roger Federer, and Tiger Woods, amongst others.
Fred Kerley is on track to break records
Kerley wrapped up his collegiate career and turned professional in 2017. Since then has been steadily rising in the ranks, getting closer to his goal. Currently, Kerley has an Olympic silver medal in the 100m, two World medals (silver and gold) in the 4x400m relay, and a World bronze in the 400m. 
Additionally, he has two gold titles in the Diamond League, in the 400m and 100m. Currently, he is one of the three people to go sub 10 seconds in 100m, sub 20 in 200m, and sub 44 in 400m. The other two are Michael Norman and Wayde Van Niekerk.
Kerley will establish himself as a legend if he can clock records in all three events. It seems his recent loss of the Kip Keino title to Ferdinand Omanyala failed to shake his faith in his abilities. He has not only refused to back down from the challenge to surpass Bolt, but has also added the goal to match the earning capacity of legends like Messi, LeBron James, Ronaldo, and so on.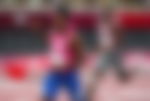 Earning potential for track and field athletes
In response to Kerley's declaration, fellow Olympic athlete Tony McQuay advised Kerley to change sports if he wished to achieve that goal. "Better change ya sport champ," he tweeted. The reason behind such a response from a fellow track and field athlete is simple. Competing in track and field doesn't pay anywhere near the mainstream sports. 
ADVERTISEMENT
Article continues below this ad
Better change ya sport champ

— Tony McQuay♛ (@tmq400) May 11, 2022
It's not just a disparity amongst sports. There is also a huge pay gap between runners that stand on the podium and those that fail to place in the top three. Track athletes need to be in the top 10 of their sport to make a living wage, whereas NFL players enjoy a minimum annual salary of $660,000.
ADVERTISEMENT
Article continues below this ad
If Kerley truly wants to make the list of highest-paid athletes, perhaps becoming the fastest man alive will be a minimum requirement.
WATCH THIS STORY: Ferdinand Omanyala Causes Major Upset to Fred Kerley; Defeats Him to Become World Leader at Continental Gold Tour