"Right Now She's the Enemy" – Track and Field Prodigy Talks About Taking On Allyson Felix in the 200 Meter Dash
Published 04/29/2022, 10:30 AM EDT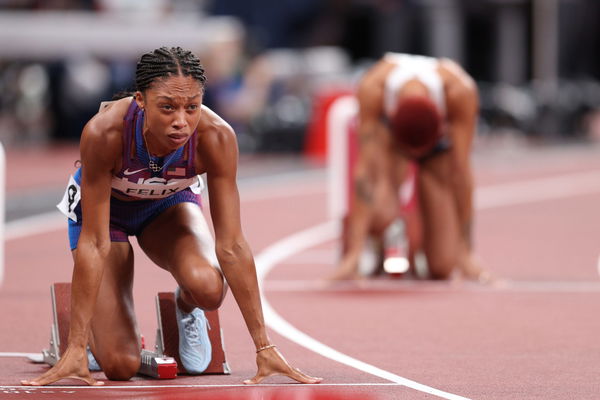 Melissa Jefferson may only be an emergent athlete from Coastal Carolina, but she has already made her mark. Competing for the 200 meters crown against one of the game's greats in Allyson Felix, Jefferson was left with quite a conundrum as she laced her shoes. And in perhaps the first instance of an athlete not being shattered by a second-place finish, The USC Outdoor Open in Columbia saw her finish second to the seven-time Olympic gold medallist.
ADVERTISEMENT
Article continues below this ad
While Jefferson missed out on the victory by the narrowest of margins, it was the process of getting ready to race her hero that could have played a bigger role. Understandably stunned by the presence of her idol, Jefferson later credited Felix with pushing her to be the best and set a new record in the process. Counting herself as one of the lucky ones, Jefferson will be happy with the opportunity of being able to compete with the stalwart, as this could be her final opportunity at it.
ADVERTISEMENT
Article continues below this ad
Jefferson opens up on competing with Allyson Felix
Taking part in the 200-meter dash, Jefferson was only 0.06 seconds behind Felix who finished with a time of 22.40. An alumnus of the Carvers Bay High School, Jefferson also won the 100-meter dash with a  time of 11.08 on the day. It was facing off with her idol though that presented the day's biggest challenge.
Having only heard of Felix's participation a couple of days prior to the event, Jefferson was understandably shaken up. Said Jefferson, "At first I was freaking out. I was like, 'OK, this is really happening'. I had my little fan girl moment." 
ADVERTISEMENT
Article continues below this ad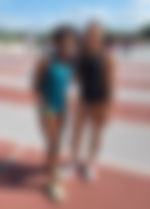 However, she had to snap out of it quickly. Jefferson showed great maturity in switching up her mindset.  "'OK, right now she's the enemy. We're not friends'," said Jefferson, "because at the end of the day, the job was to beat her."
Responding to the challenge, Jefferson truly gave Felix a run for her money. And in the process also beat some University records. The young athlete also got a taste of the pressures that an athlete's life carries with it. Said Jefferson, "There were so many people there that weren't there before that race was about to begin."
ADVERTISEMENT
Article continues below this ad
Watch This Story: Shaun White and Nina Dobrev Take Over Spotlight At Coachella With Their Appearance
It might be too early to say but Jefferson may well be a star in the making. But what do you think? Could the young athlete touch the heady heights of the career we have seen Felix have? Or is it too early to tell for the competitor?