Simone Biles Flies off With Sister Adria Ahead of Her Big Day With Jonathan Owens
Published 03/18/2023, 12:12 PM EDT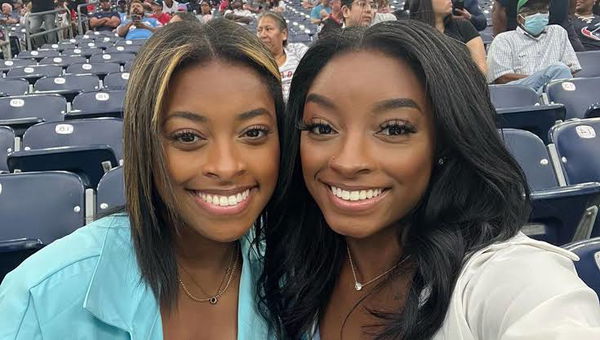 The highly anticipated wedding of Simone Biles and Jonathan Owens seems to be just around the corner. Their engagement last year sparked widespread interest about the day they would finally tie the knot. Biles's social media have been a major source of information for their devoted audience about every detail of the event. Nevertheless, this time around, her sister's Instagram story prompted more curiosity.
Adria Biles, Simone Biles' sister, recently shared a video from a flight on her Instagram account as a story. Simone's Snapchat updates also piqued a lot of people's interest the whole day. Do they connect with one another in some way?
Just Simone Biles' way of hyping up
ADVERTISEMENT
Article continues below this ad
Simone wore a black hoodie, a white cap, and a neck pillow, and appeared on the Instagram story of Adria Biles. When Adria is recording, Simone gives her a direct look, but it doesn't stop Adria from giggling. In her story, Adria mentions, "I don't know anyone more full of energy at this time of the morning. @simonebiles." Based on previous Snapchat stories by Simone, it seems like the sisters are leaving for an interesting destination first thing in the morning.
Simone Biles began sharing Snapchat stories with a photo taken in the mirror, showing her in a Gucci hoodie and blue, ripped jeans. In her next story, she and Jonathan Owens were seen sharing a green margarita. In addition, she finished the meal with something that resembled a butterscotch pastry for dessert. On the other hand, at 5:29 in the morning, she shared another story in which she could be seen in her car. However, she surely left a hint, as in the caption of the story, she says, "on my way to my final dress fitting." And the next thing you know, she is on a flight with her sister. Something surely adds up here.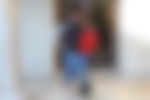 The couple is getting ready for the big day
More than a year has gone into the wedding preparations for the couple. They have been practicing every aspect of the ceremony in order to ensure that their wedding day would go off without a hitch. Simone Biles shared an Instagram reel featuring her and Jonathan Owens earlier today. In the caption, she wrote, "Our wedding is around the corner so we're just practicing for the big cake cutting moment."
ADVERTISEMENT
Article continues below this ad
 

View this post on Instagram

 
The couple attempted to cut a little cake together on camera. To cut the cake, Biles sweetly stood in front as Owens almost embraced her from behind. They sliced the cake in half and then each tried feeding each other with their forks. During it all, Natalie Cole's "This Will Be (An Eternal Love)" played in the background of the silent monochrome clip. Owens also commented on the post, saying, "Practice makes perfect."
ADVERTISEMENT
Article continues below this ad
WATCH THIS STORY – Gymnastics GOAT Simone Biles Teases Her Wedding Update On Instagram
Can you guess when this adorable couple will be getting hitched? Let us know in the comment section.